Adventure Time (comic)
Talk

21
1,826pages on
this wiki
Adventure Time is a comic book series published by BOOM! Studios, written by Dinosaur Comics creator Ryan North, and with art by Shelli Paroline and Braden Lamb.[1] The comic book is released monthly,[2] starting with issue #1 in February 2012.[3] Adam Muto, however, has stated that it takes place in a different reality. [4]
Format
Each issue includes at least two comics: The lead story is written by North and drawn in the style of the cartoon by Paroline and Lamb; and one or more backup stories made by an indie comic artist, drawn in their own style.[2]
The main story features small messages at the bottom of many of the pages. This is a trademark of writer Ryan North, whose Dinosaur Comics always contain semi-hidden messages and commentary.
The first storyline in the series is a four-parter by North, split between issues #1 through #4.[5]
List of issues
Cover
story
Backup story
Release date
Issue 1
The Lich reawakens and traps Finn and Jake.
(Part 1 of 4)
"My Cider the Mountain" by Aaron Renier
February 2012
Issue 2
Finn and Jake are stuck in the Lich's Bag of Holding while Marceline, Princess Bubblegum, and LSP are stuck, too.
(Part 2 of 4)
"Laundromarceline" by Lucy Knisley
" After the Show" by Zac Gorman
March 2012
Issue 3
Ice King & Desert Princess make an army of Finn and Jakes to help battle The Lich
(Part 3 of 4)
"Bacon Fields" by Michael DeForge
April 2012
Issue 4
With The Lich defeated, The Land of Ooo is restored. The only problems is that it is covered by all the sand from The Bag of Holding & Desert princess is missing!
(Part 4 of 4)
"The Ultimate Part Dip" by Chris Eliopoulos

May 2012

Free Comic Book Day
Issue 1
BMO trains to get good at fights, with help from Finn and Jake and Princess Bubblegum
Laundromarceline (repeat)
May 5th, 2012 (Free Comic Book Day)
Issue 5

Finn and Jake journey into a new part of Ooo.

(Part 1 of 4)

"Emit Erutnevda" by Paul Pope

"Ice King Dumb" by Georgia and Chris Robison

June 2012
Issue 6
Jake causes trouble when he messes with Princess Bubblegum's time machine.
(Part 2 of 4)
"Level 99" by Anthony Clark
July 2012
Issue 7

Finn and Jake end up in the future with no way to return home.

(Part 3 of 4)

August 2012
80px
Issue 8
TBA
TBA
Issue 9
TBA
TBA
Spin-off series
BOOM! Studios published a six-issue spin-off miniseries titled Adventure Time: Marceline And The Scream Queens beginning in July 2012. The miniseries is written and illustrated by Meredith Gran and is centered on Marceline and Princess Bubblegum playing together in a band.[6][7]
The Adventure Unfolds
The Adventure Unfolds is a fold out comic by Jon Chad limited to 700 copies. It was only available at San Diego Comic Con 2012 for the price of $30.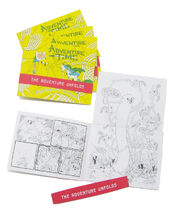 [8]
On July 25th Boom Studios begin selling it on their website for $40.
[9]
Trivia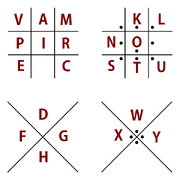 Issues 1 and 3 of the comic contain messages written by Marceline in a Pigpen cipher. The known letters of the cipher are in the chart to the right. Note that the first section spells out "vampire" and the rest of the letters are apparently in alphabetical order, making it fairly easy to guess the unknown letters.
Gallery
Advertisements for the comic
External links
Behind the scenes info:
References
Adventure Time comics

Issues
Marceline and the Scream Queens
Adventure Time with Fionna and Cake
Candy Capers
Free Comic Book Day
Adventure Time Cover Showcase
Original Graphic Novels
Annual Issues
Backup stories