Home
Talk

187
2,391pages on
this wiki
Contents
Characters


Finn • Jake • Ice King • Princess Bubblegum • Marceline • Lady Rainicorn • Flame Princess

Episodes
Other

News
• February 23, 2015- We did it! Adventure Time Wikia has officially received its own Wikia Community App! Download it on your Apple and Android device!
• Jan 17, 2015 - Share YOUR fan-fav method of saving the day! Be sure to post here to let them know your fan-favorite abilities of your favorite characters! Could it be Jake's Stretchy Powers or maybe Princess Bubblegum's intelligent mind or even something else!
• Apr 21, 2014 - Show your fandom is the best! - Official rules
Wikia wants to know how much you really love your favorite TV show! Tell Wikia what you love in pop culture on Facebook and Twitter.
Simply tweet @Wikia or post on Facebook.com/Wikia what it is that you love and why and tag it with #WikiaFan. Each post or tweet counts as a "vote". The fandom that has the most "votes" will take over Wikia's Facebook and Twitter pages one week.
Let Wikia know:
Tweet: @Wikia
Post: Facebook.com/Wikia

May the best fandom win. (By that I mean Adventure Time!)
• Apr 21, 2014 - You voted and decided that THE ultimate Adventure Time meal is composed of the everything burrito, crystal gem apple, BMO's hot chocolate, Finn cakes, and Cinnamon Bun! See more here!
• Apr 8, 2014 - Join in on the Food Fiction food fight! Choose your most favorite Adventure Time meal!
• Jul 7, 2013 - Adventure Time is nominated for best animated show for the Teen Choice Awards!!! Click here to show your support and Vote for Adventure Time!
• Jun 28, 2013 - Upcoming Changes - This wiki has been flagged as falling into that category, and staff wanted to let you know about it. While staff knows Adventure Time has many fans of all ages, it can also be especially appealing to the younger demographic for purposes of the newly revised Children's Online Privacy Protection Act (COPPA).
Semanticdrifter/Updates to COPPA.
• May 29, 2013 - About transcript pages (April 23rd)
Poll
What did you think of "Dark Purple?"
Contribute to this wiki
If you are new to wikis, check the getting started information page.
Check out the community portal to see what the community is working on, to give feedback or just to say hi!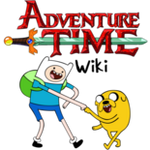 Featured Article: March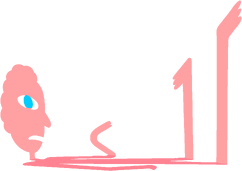 Prismo
is the dream state of an old man who has achieved a sleep so deep and powerful that his dreams manifest as a powerful wish-granting being. This being is pretty fun to be around and is generally nice to the people he meets. Also he makes some
very
delicious pickles and enjoys having
Jake
as a friend so much so that he gave Jake a teleportation device to his universe so he can visit whenever he wants.
---
Featured Image: March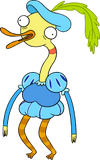 Choose Goose is a talking goose who speaks exclusively in rhymes! He sells various rare objects for adventuring or assisting and Finn and Jake often enjoy his wares, but most of what he possesses either backfires or is mostly useless to almost everyone...
---
Featured Video: March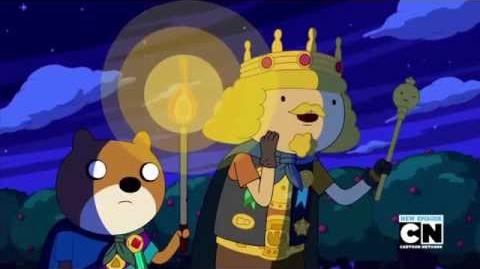 The speech Sweet P gives when pushed too far by the so-called King of Ooo and his lawyer.
---