Cuber
Talk

66
1,826pages on
this wiki
Cuber speaks in the beginning and end of the episodes, "Five Short Graybles" and "Five More Short Graybles." He seems to know Finn, Jake, BMO, Tree Trunks, Marceline, Gunter, and Princess Bubblegum but calls Ice King "the blue guy" and Lumpy Space Princess "the other thing." He may be from the future, considering that he says the stories seen in "Five Short Graybles" are tales from "the days of old." This can be supported by the fact that his clothes and room look advanced, though similar technology can sometimes be found in Ooo. He speaks a variety of non-English terms (see quotes) but mostly speaks English.
Appearance
Edit
Cuber wears a hat with a small floating purple cube next to it, the hat itself is a hemisphere with a bent line coming from the top. The hat is the same color as his robe, which is light salmon colored. His robe has a green, blue, red, and translucent orange squares on it. Its chest has a line with many 90 degree angles dividing it approximately down the middle. The line ends abruptly suggesting that the top and bottom halves of his robe could be separate. His skin is light pink, and his head is significantly larger than his body. His features are similarly sized to most characters but spread to fit his face, giving him a comically small mouth.
| | | |
| --- | --- | --- |
| " | Hmm? Oh hoho gleeb old bayble grapes, you're just in time. Bayble Cuber's bound to watch an incredrible adventure from days of old, on my Holo-Pyramid Viewer. 5 stories - each relating to one special theme. See if you Graybles can guess the theme by the end of the episode, OK? Uh sit back, relax, and enjoy the show. | " |
"

What? What's that? You haven't guessed it? Oh, I'm sorry. Well, pause your viewer if you want to think about it before I belable it to you
...
The theme was the five senses, hah, you see! Look: BMO SAW his reflection, Finn and Jake TOUCHED their hands together, the princess made a TASTY sandwich, the blue guy SMELLED bad, and the other thing HEARD music.

"
| | | |
| --- | --- | --- |
| " | Here for more graybles, I reckon. | " |
| | | |
| --- | --- | --- |
| " | Ho ho, what a treat! OK well I'll see you crimpy glimmers on triode flimpin' the diode, ah ha ha hmm! (waves) | " |
| | | |
| --- | --- | --- |
| " | Now you've got it, I can tell. The theme is the Five tastes. You see, Jake ate a SWEET plum. Marceline played some SAVORY licks. Tree Trunks had a SOUR taste in her mouth, oh my. Gunter wanted to taste the SALTY tears and Football's tea was BITTER. | " |
| | | |
| --- | --- | --- |
| " | Now, look to my visualizer screen and let this exciting grayble dribble all over your mind label. | " |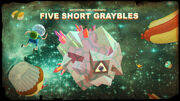 The title card of "Five Short Graybles" features a giant crystalline structure in space with Cuber's silhouette appearing in its window. The title card also features Finn and Jake however, which contradicts his suggested place in Ooo's timeline. Title cards often depict scenarios that do not actually happen in the episode, so it is unknown whether any part of this image can be taken as fact.
The hologram of the Earth in Cuber's room on the right side shows the crater created by the Mushroom War.
He is one of the three characters to break the fourth wall (the first being Ice King in "Beyond this Earthly Realm" and the second being Finn in "A Glitch is a Glitch") by directly addressing them so far, as he addresses the audience by calling them "Graybles."
The Holo-Pyramid Viewer shown is a tetrahedron with only four sides, but there are five Graybles.  Rotating the Viewer seems to change the photo on one of the sides to fit all the Graybles.
Cuber's Pause Viewer seems to be changing, and it might change every Five Short Graybles.
Official art
Edit
Screenshots
Edit
References
Edit