Dead Mountain
is a mountain located in the
Bad Lands
. The Mountain is a huge rock which sits in a tilted position that has a slope on it's back on which
Finn
and
Jake
use to reach the top in the episode "
Don't Look
." What lies in the interior of the mountain is unknown.
A small hut lies on top which Finn and Jake barge into to collect a treasure. The hut turns out to be the residence of a dead hermit, and is left hoarded with rats, empty pizza boxes and other junk.
Appearance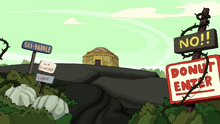 Dead Mountain is a huge dark rock with a carving of a skull on it's front. It's back is sloping and it is surrounded by smaller rocks and grass in a desert.
On the top of Dead Mountain lies a small hut surrounded by warning signs and bushes other weird plants and thorns.
Gallery
Official art
Screenshots
Ad blocker interference detected!
Wikia is a free-to-use site that makes money from advertising. We have a modified experience for viewers using ad blockers

Wikia is not accessible if you've made further modifications. Remove the custom ad blocker rule(s) and the page will load as expected.