Flame Powers
Talk

0
1,818pages on
this wiki
"Do you know what Ice King means?!"
This article is a stub. Please help the Adventure Time Wiki by expanding it. Thanks!
Flame or Fire Powers are the abilities possessed by the Flame People.
Notable forms
Edit
Elemental Matrix
Edit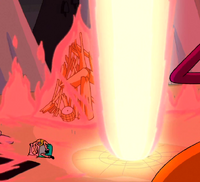 When
Flame Princess
is exposed to extreme romance, her
Elemental Matrix
will become unstable, and she will burn so hot that she will melt down through the Earth's crust. Then she will be thrown by gravity back and forth until she burns the world from inside. In "
Burning Low
,"
Finn
kissed her, thus making her Elemental Matrix become unstable. However, the process was stopped because of the lack of oxygen, and Flame Princess was burned out before she could burn the whole world.
Flame Shield
Edit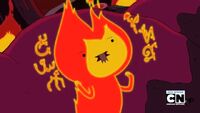 Flame Shield
is a spell that
Flambo
casts on
Jake
in the episode "
Incendium
" to protect him from the heat of the
Fire Kingdom
. The exact length of the spell is unknown but Jake has the protection for most of the episode. It seems that the protection disables itself when not around fire or intense heat. However, exactly what causes it to disable is not clear because Jake is blue up until he goes into the
Tree Fort
. The spell wears off when the lighting changes, directing attention away from the Flame Shield's protection ending. It seems to be cast by using a chant that involves different hand gestures and arm movements as it is said. As he chants, Flambo also creates a series of runic symbols. He spits on Jake once the spell is cast, but that was apparently just to spit on him. In "
Ignition Point
," Flambo uses it again, this time on both Finn and Jake. He did the same spell, then punched them on their foreheads. This shows that it can be cast for a place other than the Fire Kingdom. It would also seem to need some form of contact, as he spat on Jake the first time before the shield came up, and then lightly punched Finn and Jake before the spell took effect.
Flame Sword
Edit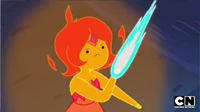 Flame Sword is an ability of the
Flame Princess
, first used in the episode
Vault of Bones
. It appears as intense, issolated, bright blue-and-white flame. It has the appeance and sound of the flame of an oxy-fuel torch. She uses it to cut through a metal door in the
Vault of Bones (location)
.
Heat Sense
Edit
Heat Sense is a power displayed by Flame Princess, first shown in "Vault of Bones." The ability is used by Flame Princess in the episode to detect something out of place, which turns out to be a fake tree. She uses the ability after Finn is unable to find a secret switch for a dungeon. Flame Princess uses this ability by spinning around in place and sending out heat waves.
This ability may work like thermal imaging, where sending out infrared energy (via heat rings), and seeing how it reflects off of objects. Another theory is detecting how flammable the various materials are in the detection area, as different molecular compounds and structures have different ignition points.