Gumbald's Cabin
is an old cabin which appeared in the episodes "
Hot Diggity Doom
," "
The Comet
," "
Bonnie and Neddy
," "
Varmints
," and "
Adventure Time Mini-Series: "Stakes"
. It is located next to
Lake Butterscotch
.
Princess Bubblegum and Peppermint Butler exile to the cabin after losing her throne (ruler of Candy Kingdom) to the King of Ooo. They first find the cabin in a run down state but quickly start to renovate it. In "Checkmate" the cabin was destroyed. In "The Dark Cloud" Princess Bubblegum regained the throne and moved back to her castle along with Peppermint Butler.
In "Bonnibel Bubblegum it was revealed that Gumbald built the cabin with the wood from the taffy trees he chopped down. The cabin was the first part of his intended candy city, must to his niece's dislikeness. It was in that cabin where Bonnie, Gumbald, Lolly, and Chicle resided, until the incident with the Dum Dum Juice, when Gumbald, Lolly, and Chicle became candy people and Bonnie declared herself princess and began to build the Candy Kingdom.
Appearance
Exterior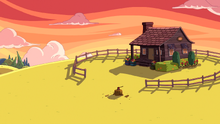 Gumbald's Cabin looks like a small normal brown cabin with a surrounding fence. When Princess Bubblegum and Peppermint Butler arrived, it was completely run down. It started to burn down with broken wooden pillars, roofs and an old fridge on the floor full of bats that crashed outside the wall. However, Peppermint Butler helps restore it to it's normal state with nailed wooden boards to cover the damage. It has also been renovated multiple times with plants and fences around the cabin.
Interior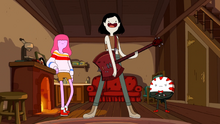 The cabin originally had green painted walls but Peppermint Butler painted white over it. There is a study desk inside, a staircase to an upper level and also a staircase down to a Princess Bubblegum's lab. The interior has also been renovated with shelves, cupboards, chairs, a fireplace, a couch and many other decorations. There's also an unknown door in the stairways going up.
Trivia
This cabin has been destroyed or has suffered damages five times.
Gallery