Marshmallowy Mweadows
Talk

5
1,827pages on
this wiki
Marshmallowy Mweadows
Name
Marshmallowy Mweadows
Location
Land of Aaa
Marshmallowy Mweadows is a place in The Land of Ooo in the Candy Kingdom during the episode "Fionna and Cake." Fionna and Prince Gumball went there on a supposed "date". The flowers are made of marshmallows. There are also cotton candy trees. The ground also appears to be very soft and penetrable, since Prince Gumball is seen easily diving in to them with no injury. There are also pygmy skulls underground.
Because this place is only seen in the Ice King's fanfiction, it's unknown whether it exists in the real Land of Ooo.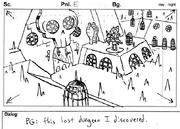 An early storyboard of the episode had a cavernous dungeon that existed beneath the Marshmallowy Mweadows, thus making the location appeal to Fionna in multiple ways. In the storyboard, Gumball finds the crystal pygmy skull inside an iron maiden device.[1]
References
Edit