Memories of Boom Boom Mountain
Talk

3
2,149pages on
this wiki
"Memories of Boom Boom Mountain" is the tenth episode in the first season of Adventure Time. It is the tenth episode overall.
Synopsis
Finn tries to reconfirm his desire for helping people out when confronted with one problem after another stemming from a violence-hating mountain.
Plot
The episode begins with the Marauders fighting each other and acting rough. Finn, participating in the fight, then hears a cry for help from somewhere. Before Finn goes off to find the source of the crying, the Marauder he had been sparring with stops and insults Finn. Finn tells him a story of when he was young, he took a "boom boom" (Finn's word for defecation) on a leaf and accidentally sat in it. He cried for a day, and no one helped him, so he swore to help others who need help and goes to the mountain. Once they scale it, Finn and Jake find out that the mountain is actually a living being and crying rocks. He tells them that he is sad because of the Marauders' roughhousing and he abhors the use of violence. Jake says the mountain's got problems, which triggers some more of the "boom boom" memories. Finn is on the leaf and a bug woman tells her son that Finn has problems. So, Finn convinces Jake to help, and then they promise to help the mountain. They ask the Marauders to stop on their first attempt, but they say they do not want to. He sees a duck and rat, and gets an idea to soften them by tying animals to them, but the mountain is even more sad because the animals are getting hurt and it is worse than before. Finn then pets the Marauders to get their attention and they all seem to like it. They pet themselves until their skin grows raw. Finn then gets an idea to turn the mountain around and everyone agrees. A female mountain objects (she likes the look of the mountain's back), and then Finn gets various requests from several sources.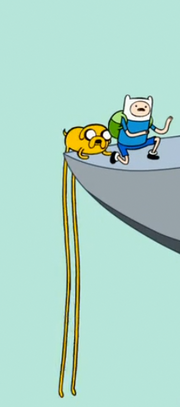 The requests are:
Mushroom Creatures
(they want to dance to music),
Coal Man
(he wants peace and quiet), a
Cactus Creature
(she needs pollination to have her babies),
Dragon
(he has an itchy butt),
Ice Cube Creature
(he is in very cold water and wants to melt),
Fish
(they want the flies off of their almost dead mother), a
toad
and
Electroids
(they are in a debate with each other because Little Blue Creatures took his plum and the toad stole their triangle), and
Naked Wizard
(he is just naked and wants to be clothed). Finn becomes stressed, nearly driven to tears by the gravity of his desperate situation to try and stay true to his pledge, and in trying to calm him down, Jake asks Finn what he wants. This triggers the last part of the "boom boom" memory. Finn is still stuck to a leaf when Joshua and Margaret pass by and see him there. The two dogs resemble Jake, for they are Jake's mother and father. Margaret kisses Finn on the cheek, which makes Finn feel better.
Finn then gets a clever idea that solves everybody's problems in a Rube Goldberg-esque manner. The Marauders start rough-housing connecting a machine that swats the flies off the mother fish. The flies cover the Coal Man's ears, drowning out the sound. He throws two coal pieces that trigger a simple machine giving the toad his plum and the blue creatures their triangle. They hum and make the mushrooms dance in the flowers. The pollen from the flowers gets on the cactus creature making her babies. They are covered in prickles and scratch the dragon's itch. The dragon breathes fire and melts the ice cube. The Naked Wizard makes a foam hat out of the evaporating water. The mountain cannot see through the steam and is told no one is rough-housing. The female mountain is gladdened that she can still enjoy the mountain's grassy back. Afterward, Finn and Jake are seen riding on a dolphin (that fell in love with Jake) on a body of water.
Characters
Major characters
Minor characters
Trivia
Cultural references
Episode connections
Production notes
Censorship
This episode was censored on Cartoon Network Australia. See Censorship of Adventure Time in Australia for more information.
Gallery
Official art
Background art
Screenshots
Storyboard panels
References