Talk:Candy People
1,825pages on
this wiki
Content posted on this page should only pertain to improving the article itself.
For all other types of discussion, please post them in the forums.
This includes (but is not limited to) theories, fanon images, discussion about how great someone is, fanon stories, etc. You have been warned.

---

Remember to sign your post by typing four tildes: (~~~~) Click here to start a new topic.
I've noticed people messing with the names in the table. How many of the names of minor characters listed here are just plain made up? We should stick with official names only, and if a character has not been named, leave it blank. --Cornprone 00:56, June 25, 2010 (UTC)
I have no clue now which names are real and which are made up. If things keep getting worse, this page might need to be protected. Waddle D33 20:10, July 28, 2010 (UTC)

Other than those who have had speaking roles, a few of the other candy people (like Lollipop Lass) have been named on character design sheets posted by Frederator. I will go through and remove all the names that can not be confirmed by either source. --Cornprone 02:44, July 29, 2010 (UTC)
OK, I'm tired of people adding made-up names to the Candy People list. I'm going to protect this page from unregistered users. It should not affect registered users. If anyone has a problem with that, let me know. --Cornprone 00:25, May 17, 2011 (UTC)
This list is getting out of control, do we really need all these characters listed?

feli

noel

13:57, April 16, 2012 (UTC)

I agree. There are many, many characters that don't even have names on here. It's at the point where it's just a hassle to scroll down the page. There are 137 people listed, including the genderbent characters (125 not including). I think it needs to be significantly cleaned up. SaberSworn 14:05, April 16, 2012 (UTC)
lollipop boy
Edit
should we really add him to the list of candy people if he jst a gender-bent version of lollipop girl
Animaltamer7 04:26, December 29, 2011 (UTC)Animaltamer7Animaltamer7 04:26, December 29, 2011 (UTC)
Cinroll!!!
Edit
I want to make an article about this guy as he has appeared in a lot of episodes and has had an individual appearance in In Your Footsteps where he talked for the first time. He deserves it.Afliador8 00:40, May 12, 2012 (UTC)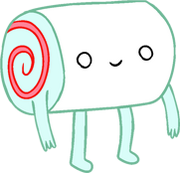 I don't think he should really get an article. He doesn't fit the normal standards that we use to specify whether or not a character should have a separate page. Anyway, it's not like we can make pages for every background character we see; that'd get ridiculous. Also, he doesn't even have an official name... He's just Candy Person #24. We don't even have a model sheet for him either.

SaberSworn

00:50, May 12, 2012 (UTC)
He was not a background character. He talked and personally interacted with Finn in "in Your Footsteps". We can call him Cinnamon Roll. he wouldn't be the first character that has not an official name and has an article.Afliador8 00:57, May 12, 2012 (UTC)
Andy Ristaino said his name was "Candy Person #24," so we shouldn't call him anything but the name the staff has set for him... And yes I know he talked to Finn; he said, "Whoa Finn, nice book." He hasn't really had any notable quotes and was never really a big part of any episodes.

Saber

Sworn

01:04, May 12, 2012 (UTC)
Neither have the so many thieves that have articles.Afliador8 01:21, May 12, 2012 (UTC)
At least CR has appeared in more than one episode and has talked, too.Afliador8 01:43, May 12, 2012 (UTC)
You are the one that is saying that. I'm saying that CR has as much right to have an article as other characters.Afliador8 01:56, May 12, 2012 (UTC)
No, I am not saying that. Also, the Cinnamon Roll is too minor to have his own page. Sky Monster 02:00, May 12, 2012 (UTC)
And so are a lot of thieves, birds and animals that have their own page.Afliador8 02:14, May 12, 2012 (UTC)
guys i was thinking ofmaking a page for the background candy people that appear often but dont have names and look alikes of them. Animaltamer7 13:28, June 29, 2012 (UTC)Animaltamer7Animaltamer7 13:28, June 29, 2012 (UTC)
ok link me felinoel Animaltamer7 08:14, July 1, 2012 (UTC)Animaltamer7Animaltamer7 08:14, July 1, 2012 (UTC)
Candy People ƒelinoel ~ (Talk) 17:49, July 2, 2012 (UTC)
Seperate sections of the individuals
Edit
the the current list of candy people is too long we need to shorten it heres my idea we seperate them in different sections so we dont have to constantly scroll down just to edit the specific candy person the box style will still be to make the specific candy person more noticable, it will go like this:
<heading 2>Candy People<heading 2>
<heading 3>Royalty<heading 3>
Princess bubblegum (info)
lemon grab(info)
cotton candy princess(info)
<heading 3>drinks<heading 3>
root beer float (info)
punchy(info)
pink milkshake(info)
etc.
the gender swap and unknown candy person section ill still be the same since theres not much genderswaps and uknonwn cnady people sofar
hope this is a good idea
Animaltamer7 (talk) 05:34, August 5, 2012 (UTC)Animaltamer7Animaltamer7 (talk) 05:34, August 5, 2012 (UTC)
....What did I do?
Edit
i accidentally messed up the page, I had no idea what happened! I added Crunchy, but then the whole thing... PLEASE HELP. —Preceding unsigned comment added by BuritoMan (talk • contribs)

I GLUBBED UP. I MESSED UP THE CHART WHEN I ADDED LEMONGRAB 2. PLEASE FIX IT. OH GLOB I'M SORRY. D: I WAS JUST TRYING TO HELP.

Jealous Of My Rice Cake?

14:16, September 29, 2012 (UTC)
UNACCEPTABLE!!!
Edit
This page needs more lemon people underneath the Lemon People section.  There are a lot more than that.
Shootingstarmilkshakebar 15:40, February 2, 2013 (UTC)
List of candy people is too long
Edit
The list of candy people takes up almost all the page, and why are all the crowd characters listed? Might wanna shorten it a bit. • hi i'm mematman15! • talk to me • my edits 02:12, March 7, 2013 (UTC)
The current page is much more descriptive and informative though. --

I'd like your feedback as to whether I was

brilliant or simply outstanding. 10:44, March 7, 2013 (UTC)

Actually i was also thinking of this idea before on one of the discussion above Animaltamer7 (talk) 02:56, April 19, 2013 (UTC)Animaltamer7Animaltamer7 (talk) 02:56, April 19, 2013 (UTC)
@felinoel, that was my thought on the subpage you have, which is a table. I italicized "think" to give the reader the impression that I was unsure of the editor's actions. If you're not doing anything then Animaltamer7 may have an idea. -- Bunai82 (talk) 05:13, April 19, 2013 (UTC)
Miggy09222
Edit
Did Somebody Unlinked Candy Corn , Raisin and Blue Candy Corn
If Somebody Undo Pages, other users will repeatMiggy09222 (talk) 08:02, May 9, 2013 (UTC)
Those were unlinked because those characters are to minor to have there own pages and will be deleted soon. Animaltamer7 (talk) 07:14, May 10, 2013 (UTC)Animaltamer7Animaltamer7 (talk) 07:14, May 10, 2013 (UTC)