Content posted on this page should only pertain to improving the article itself.
For all other types of discussion, please post them in the forums.
This includes (but is not limited to) theories, fanon images, discussion about how great someone is, fanon stories, etc. You have been warned.

---

Remember to sign your post by typing four tildes: (~~~~) Click here to start a new topic.
Separate
I propose Finn's swords be given their own articles, like Marceline's basses felinoel ~ (Talk) 22:51, May 19, 2011 (UTC)
I disagree. It's much more coherent this way. Besides, I'm modifying Marceline's basses as we speak.
Lithoxene 17:44, August 16, 2011 (UTC)
Article Rename?
I noticed that in "To Cut a Woman's Hair", Finn is wielding a moderately sized battleaxe, which, as you may remember, was used to cut down a tree (oddly enough).
It is a darkly-colored axe, with a skull at the tip (I believe). Like some of the weapons on this page, it has only been seen once, so far.
In light of this, I recommend that we rename the page as "Finn's weapons".
--Spartan-112: The Unforgiven 01:12, September 9, 2011 (UTC)
I understand your deal with this, especially with articles like Jake's bike. And in that case, wouldn't it perhaps be better if such pages of a character's objects and possessions be merged with the character's article or even became a subpage, like the galleries? Spartan-112: The Unforgiven 05:16, September 10, 2011 (UTC)
I think that, in the case of putting a character's possessions as subpages, we would probably have it titled "<Character>'s Possessions" or something like taht, and then afterward, we could just list it all up. For special pages that are somewhat lengthy, like this article, for example, they could be a separate page, much like how it is linked and set up on Finn's page. I realize that there is a possibility of some ridiculously long subpages, but I think that my idea will be okay for now. Also, in terms of merging articles, we can merge the smaller ones with their owner's page. Maybe we could set up a section for each main character called "Possessions", and then we set up the link to the subpage with whatever multitude of stuff that they have... Spartan-112: The Unforgiven 20:39, September 11, 2011 (UTC)
Also, for the longest time, I've noticed that I misinterpreted felinoel's original response... Spartan-112: The Unforgiven 20:42, September 17, 2011 (UTC)
Finn's Steel Sword
You know, I was watching Morituri Te Salutamus, and I noticed that in the fight with the first pair of gladiator ghosts, I noticed that the Steel Sword found in "Still" is very much identical to the one Finn wielded to kill a gladiator ghost. I'll upload an image of the sword in both episodes for comparison shortly. --Spartan-112: The Unforgiven 20:27, September 17, 2011 (UTC)
Here it is: the image on the left is from "Morituri Te Salutamus" and the one on the right is from "Still".

Spartan-112: The Unforgiven 20:40, September 17, 2011 (UTC)
Seperate pages
I think some swords should have their own page. How about every one of Finn's "main" swords getting their own page? Or swords that appeared in more than one episode? The other swords can be written about on this page. I also think that, if there is something interesting to say about the sword and it only appeared in one episode, they could also have their own page. An example would be the two katanas from "Slow Love," while other weapons like the dagger from "The Monster" should just be written about here. Sky Monster 22:16, March 4, 2012 (UTC)

What about the sword that slices Finn's bed in half.
Noah —Preceding unsigned comment added by 108.233.35.3 (talk • contribs)

Bed Sword
What About the sword that slices Finn's bed in half in "Slow Love?" —Preceding unsigned comment added by 108.233.35.3 (talk • contribs)
Root Sword
I know it is a fan given name, but I did notice that the official items made on Gaia have official names from the creators. The Root Sword is called Wooden Sword for the item under Finn the Human Boy item. Same sword as Root Sword, even the same design. Noting this down encase we want to reference this. True Sephiroth 00:08, June 21, 2012 (UTC)
In Fionna Fights the sword is called the root sword. 71.225.96.32 12:12, February 26, 2013 (UTC)
TF2 Reference
The tf2 reference is not a real in game item and having it here on the wiki is actually an attempt to have it made into a real item so that the owner gets money. So its actually an advertisement to earn money and I believe it should be removed. —Preceding unsigned comment added by Nibelhim (talk • contribs)
Notice of Clean up
I'm adding a template to this page because people have no idea how image placement can be disruptive to the content.
If the template doesn't appear to fit the pages purpose, then I will remove it.-- Bunai82 (talk) 13:55, June 5, 2013 (UTC)
The change I made (the "katana" info)
I noticed that the swords, or I should say knives were incorrectly named, so I changed it to the proper info. Katanas are ALOT larger than those swords, and Wakizashis certainly fit within the weapons descreption as they are longer than a Japanese Tanto, but shorter than a katana. Any questions, please ask or respond to me before any objections escalate into immidiate "corrections" to my change to the article info.
Blazerblade2020 (talk) 04:23, December 31, 2013 (UTC)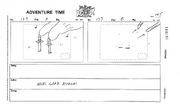 This storyboard panel,
Cole Sanchez
, and
Andy Ristaino
all say they are katanas. —
Bellamybug
(
talk
) 01:34, October 26, 2014 (UTC)
Fight King's Sword
What about the Fight King's Sword from "Morituri te Salutamus"? Admittedly Finn only "wields" (if you can call it that) the blade for a few seconds, but it is as crucial a plot point as, say, the grape sword. Thought I'd canvas opinions here before I went and added it... Keoth (talk) 09:47, October 25, 2014 (UTC)
It does seem to be the only sword Finn holds that isn't on this page. However, it's also the only sword Finn borrows from a known character. I think it would be misleading to put it on this page, since it technically is not one of "Finn's swords." —Bellamybug (talk) 01:39, October 26, 2014 (UTC)
Dads dungeon I love the demon blood sword]]}}