Talk:Jake's Tough Break
1,825pages on
this wiki
Content posted on this page should only pertain to improving the article itself.
For all other types of discussion, please post them in the forums.
This includes (but is not limited to) theories, fanon images, discussion about how great someone is, fanon stories, etc. You have been warned.

---

Remember to sign your post by typing four tildes: (~~~~) Click here to start a new topic.
sorry,I made this page because I couldn't find Jake's Tough Break when I searched for it.
anyway this page has more content. Delete the other one.
Influence
Edit
So what's the deal with Pursuit of Hat? It's not quite "influenced" as is "exact same gameplay, levels, music, etc". Did its creator Anton Rogov have anything to do directly with Jake's Tough Break?
85.85.201.111 12:40, August 24, 2012 (UTC)
Nope. Rogov isn't credited at all in Jake's Tough Break. The game appears to simply be stolen with minor reworks.
98.194.196.118 03:54, October 17, 2012 (UTC)
Look: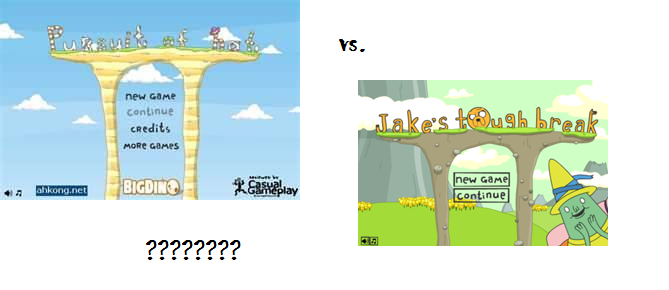 {{subst:User:Reiazur/Signature}} 09:36, November 4, 2012 (UTC)
It seems he is trying to ask if anyone else thinks this game was inspired by Pursuit of Hat. -- Sky 23:02, November 10, 2012 (UTC)