"

Princess Bubblegum is my spiritual liege.

"

—Everybody on Princess Bubblegum
BAM! Welcome to my userpage. It is love (<3) for PB.

These are my favorite characters. I like them for various reasons.
Marcy - I don't remember. Pretty sure it was something important though
PB - More on her later ;)
Lord Abadeer - Implying I didn't spoil it on purpose. Because I did
Flame Princess - Hot. Not as hot as PB
Ice Queen - I, too, sometimes wish I had bazongas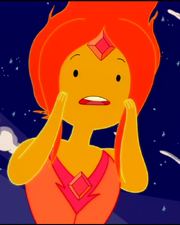 "

You're so much better than everybody all the time! That's your power.

"

—Flame Princess on Princess Bubblegum
Concepts (the section that used to be a parody of FPF's)Edit
Order, The Imperial Creed, Princess Bubblegumism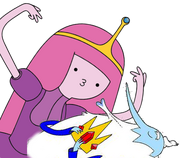 Princess Bubblegum Shrine
Edit
Princess Bubblegum is easily the best character on Adventure Time in every conceivable way. To start with, she's given the persona of a scientist. As the series progresses, we learn that not only is she a scientist, but a darn good one. She has literally engineered immortal creations with psychic capabilities that cannot be rivaled by anything other than another one of her creations. She has made pryotechnics - out of liquids. "Pyro," meaning fire. That is logically impossible - and she did it with science, not magic. Science is so thouroughly at her command that she uses it as her plaything, as demonstrated with her perfect sandwich.

Not to mention her practical intelligence. She manages to rule a kingdom full of insipid and downright tasty citizens with very few complications. Stop and think about that, seriously. And her resolve? Unflinching. She cares about Finn, but when she was forced to choose between him and the world in "Burning Low" there wasn't a moment's hesitance. In "Princess Cookie" when she had a homocidal maniac on her hands and Jake tried to persuade her by way of emotion, she made the practical choice to keep him locked up. Maybe it's mean, but she's not about to let someone get hurt because a crazy guy is locked up in a dungeon instead of an insane asylum. Oh, and when she learned he was just crazy and not wanting to hurt people? Perfectly sympathetic. Lemongrab was her failed experiment, and though she was mean as a 13 year old (she was 13, quit complaining, how mature is the average 13 year old?) she was quite reasonable to him in "You Made Me!" She took a completely unhappy and isolated person and with her biological genius recreated the work exactly to create a perfect companion for him. She took someone who was miserable and lonely and played cupid to give him a perfect life.
Oh, and she's pretty. Did I mention that? She's anatomically 18 or so, very healthy, long haired, and clearly one of the princesses that is intended to be attractive (read: humanoid). This is quite clear in the fact that Finn ahas crushed on her quite a bit. She is the most attractive girl in Ooo.
And she's strong! She managed to defeat Ricardio in hand to hand combat when he had created a strong, fit body specifically for the purpose of being physically capable. And what did she use to do that? HER BARE HANDS. Because she's PB. She will save Finn - purportedly her hero - if she has to. So why is he her hero? Because it's fun and cute. She's the mastermind, and it's all under control. Finn just gets to feel important sometimes.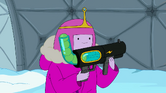 Not to mention the fact that she dragged Finn, a 15 foot horse, Jake, and her battle-worn self from the depths of the Ice Kingdom to the Candy Kingdom. Single handedly. For two days. Stop and think: if she had to drag them, they were clearly unconscious. If they were unconscious for two days, they were probably quite ill. She obviously had to save them from far more than just Ricardio's clutches. Did I mention that she could've sent in the Candy Kingdom military to do this job? (from Princess Cookie) But no. She didn't. You know why? Because she likes a challenge. That's why. Oh, yeah, and she saved me. She saved the arguable biggest hunk in all of Ooo, because she knew I'm not a genuinely bad guy. She likes wants me that much.
Disclaimer: I do not stalk Princess Bubblegum, I just watch her a lot.
Pillar of Legitimacy
Edit
Princess Bubblegum Tier:
Gob Tier:

Apart from the two tiers, there is no order. (Except FPF, who is at the bottom because he sucks)
>No order
>Order is a part of my concepts
>mfw (cake)