Comments

28
Should Flame Princess be considered a main character now?
Is Flame Princess considered a main character?
Well I think she should be a main character, because after "Burning Low" she is going to be in 3 episodes now, and some other characters like Lady Rainicorn has only so far had one episode about her "My Two Favorite People" and she's considered a main character, what the lump.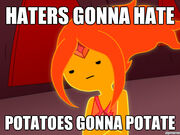 Ad blocker interference detected!
Wikia is a free-to-use site that makes money from advertising. We have a modified experience for viewers using ad blockers

Wikia is not accessible if you've made further modifications. Remove the custom ad blocker rule(s) and the page will load as expected.