Hello! I'm Viadessa, but you could call me Ade, like my mom does, or Via, like Ignus.
I'm fifteen years old, and I'm currently single (;)).
Tell me if you're being bullied, I'll teach them all a lesson!
Well, I have nothing else to tell you, honestly.
Oh wait, yesterday Ignus just held my hand!
And we visited Finn and Jake! They were awesome. And Ignus is too ;) considering he's Finn's son after all ;).
Bye! I'll have lot to tell you tomorrow!
Adventuretimefanatic555 (talk) 08:25, July 30, 2012 (UTC)Viadessa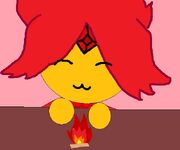 My auntie Incandessa in Chibi Form ;)
Do you like it?