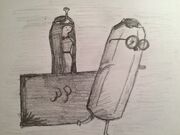 Gary the Banana was a trainee Banana Guard  but he felt like an idiot with the rest of the Guards, he felt superior to them, one day he noticed Princess Bubblegum was looking for an assistant in her lab, he signed up, when he showed up Princess Bubblegum dismissed.
'Why won't you hire me?'
'Because your a Banana Guard your genetically created to guard not be smart'
'You will regret this Bubbline'
'It's Princess Bubblegum to you'
'Not anymore'
Gary the Banana burst out of the lab and headed to the caves to north not seen for months.
Ad blocker interference detected!
Wikia is a free-to-use site that makes money from advertising. We have a modified experience for viewers using ad blockers

Wikia is not accessible if you've made further modifications. Remove the custom ad blocker rule(s) and the page will load as expected.