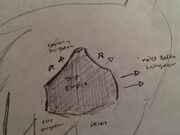 'It begins now' Gary thought, now was the time, they set up camp and build a castle with on stones they found on their journey south, they needed land and spread themselves around the grasslands, they then became greedy as so the empire began to conquer, beginning with small villages at the soft village and then they planned a large attack, to strike a kingdom the monsters marched to wildberry kingdom.
Ad blocker interference detected!
Wikia is a free-to-use site that makes money from advertising. We have a modified experience for viewers using ad blockers

Wikia is not accessible if you've made further modifications. Remove the custom ad blocker rule(s) and the page will load as expected.