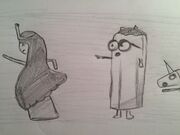 Princess Bubblegum set out on her best friend, Lady Ranicorn to seek peace, but they should've thought better,
'Gary i am here to seek peace'
'You should've hired me Bubblegum'
'It's Princess Gary'
'It's Emperor, Princess'
'What do you want for peace'
'I don't want peace, i want Ooo'
'Gary, all the kingdoms are at peace don't declare war on peaceful villages!'
'Guards! Take the princess and her unicorn'
'Lady Ranicorn is a Ranicorn!'
'Whatever!'
The guards ran over and as Lady Ranicorn and Princess Bubblegum were about to escape, Lady Rainicorn was grabbed, she told Princess Bubblegum to run and by the time Lady Ranicorn was trapped Princess Bubblegum was halfway to the treehouse...
Ad blocker interference detected!
Wikia is a free-to-use site that makes money from advertising. We have a modified experience for viewers using ad blockers

Wikia is not accessible if you've made further modifications. Remove the custom ad blocker rule(s) and the page will load as expected.