Intro
Hi guys i'm new
Any way i'm going to make The Cartoon Games after being inspired by The AT arena (I'm Lady Rainicorn)
So I'm going to need you guys to choose which tribute will you be.
Updating
Every weekend
Weekdays
I won't be online on weekdays because I can't use computers on Monday-Thursday
Tributes
Name
User
Weapon
Kills
Allies
Rank

Finn

Magma Princess
Demon Blood Sword

Jake

Spongebob

FP

Jake
Sweet Princess

Strechy Powers

Axe

Finn

Spongebob

FP

Mordecai
A hero boy named finn

Punchies

Rigby
Animatorevil19
Death-Kwon-Do
Dipper
Suprsilver
Book
Mabel
Shojo-chan cat

Waddles

Grappling Hook

Sponge Bob
JackTDTS
Bubbles

Finn

Jake

FP

Beemo
Bigez620

Technology

Staff

LR
Gumball (AWOG)
FinnAwesome
Karate
Darwin
ATMASTER        
Karate
0
0
24th
Bubblegum
A Nerdy Princess
Science
Flame Princess
Superxgame
Flames
1

Finn

Jake

Spongebob

Ash
Blugo34
Pokemon
Fionna
27finnsprincess
Ruby Sword
Me-Mow
Winxflora21
 Poison
Anais (Temporary)
Anais
Fionna The Human Girl
Physics

Me-Mow

(Temporary)

Ice King
Rst456
Ice Powers
Marcy
Aqwerz
Axe-Bass
Phineas (PAF)
Chilled Enderman
Technology
Ben 10
Teratorn
Omatrix
0
0
25th

Penny

(AWOG)

Thefinnlink
Horns
Patrick
AcePhoenix 007
Flabby Body Slam
Mario
SuperMario Bro64

Fire Balls

Kirby
Beemo
Inhaling People
| Name | User | Weapon | Kills | Allies | Rank |
| --- | --- | --- | --- | --- | --- |
| Lady Rainicorn | Aura Victini (Me) | Rainbow Powers | | LR | |
| Name | User | Weapon | Kills | Allies | Rank |
| --- | --- | --- | --- | --- | --- |
| LSP | Aura's Sister | Lumpy Powers | | | |
Districts
District
Tribute
District Adventure Time

Finn

Jake

District Video Game

Kirby

Mario

Beemo

District Royal Gals

PB

LR

District Gravity Falls

Dipper

Mabel

District Amazing Pals

Gumball

Darwin

District Regular Show

Mordecai

Rigby

District Feminine Power

Penny

Anais

District "Tomboy"

Marcy

Fionna

District Freezing Death

Ice King

Me-Mow

District Krabby Patty

Sponge Bob

Patrick

District Unstable Matrix

Flame Princess

Ben 10

District Youth

Phineas

Ash
Deaths
| Name | Killed By |
| --- | --- |
| Ben 10 | Flame Princess |
| Darwin | Me-Mow |
| | |
| | |
| | |
| | |
| | |
| | |
| | |
| | |
| | |
| | |
| | |
| | |
| | |
| | |
| | |
| | |
| | |
| | |
| | |
| | |
| | |
Chapter 1: The Bloodbath
Narrator: Finn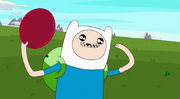 I'm now standing in a ring gonna kill my friends. I can't believe i'm gonna kill my bud Jake and my GF Flame Princess.
9...
8...
I see my Demon Blood Sword in the cornicopia.
6...
7...
6..
5...
4...
3...
2...
1...
I run for my life panicking about dying. I see from a distance Flame Princess killing someone. I can't tell who it is. I pick up my Demon Blood Sword and run into a forest. I jump in a nearby lake. " Hey Finn. This isn't ocean water!" somebody says. I flip out and see who it is. IT'S JAKE! "Hey Finn can we like be allies? I'm FREAKING OUT!" Jake said. "Sure." I say. Jake picked up a axe from the Cornicopia. "Finn did you see your girlfriend kill someone!" Jake asked. He didn't know who FP's victim was. "We should camp out!" Jake said. He also got some beef jerky. About 8:00 or something I saw a face. It was a male I didn't know.
Chapter 2: Bacon Pancakes!
Narrator: Jake
Hello. I'm Jake. Recently Finn has been sharing his story. Now it's my turn. So now with 1 guy down Finn and I have a 0.01% chance of winning. Let's hope someone kills me or Finn first so we don't have to battle each other. I get out my backpack. "Lets see whats inside!" I say. Inside were the Little People (All The Little People), bacon, pancakes, and a portable stove. "Jake, lets eat bacon pancakes," Finn said. I bake them and we eat. "Hey Finn! You want these Little People?" He grabs my sack and starts playing with them. We decide to go kill someone. Finn and I go to a forest. We see someone. "Jake who is that?" Finn asked. "I don't know. Lets make a poll so the people can decide who it is!" I say.
"Well the fans say it's Spongebob," I say to Finn. "Hello! " Spongebob said. He doesn't seem THAT harmful so Finn and I decide to keep him as an ally. "Hey does anyone smell smoke?" Spongbob asked. "It's Flame Princess!" Finn said exicted. He ran toward her.
Chapter 3: Fantastic Four
Narrator: Flame Princess

When I run to a nereby camp going to kill someone Finn runs toward me and gives me a hug. He introduces me to Spongebob so I guess Finn, Jake, that sponge, and I are allies. I wonder how the other people are. "So FP. Who did you kill?" Jake asks me. "Some guy who tried to FLIRT WITH ME!" I scream. Sorry I have anger issues. 4 gifts boxes appear out of nowhere. Finn opens one. "There's a note!" He says.
Dear Tributes,
I'm breaking the 4th wall here to give you a Ipod that tells you how died, Where you are, etc.
-Aura
"So according to this I killed some guy named Ben 10," I report. "Lets go kill someone now that we are a team." Finn says eagerly. "O.K Spongebob and I go beat up someone you guys should...uh...kill someone." Jake said. I kiss Finn and run off.
Chapter 4: Just a Game
Narrator: Beemo
Hello. My name is Beemo. So you heard Finn, Jake, and FP's side of the story. Well now it's time to bring a new chracter to the show!
I look at my new Ipod. 24 tributes left. I pick up my staff which I got from the cornicopia. A go to a pond and see Football. "Hello Football!" I say. "Hi Beemo, hows it going?" Football says. "It's O.K. all I have to worry about is Finn's group," I tell him. I run off to my camp. It's just a house made of sticks. I play Angry Birds on myself. Then I hear something. I look outside.A tribute talking. I don't know who. So i'm going to let you guys decide!
So the winner of the poll was Lady. "Hey Lady!" I say. "Hello Beemo why were you talking to yourself?" She says. (She's wearing a Universal Translator) "Want to be allies?" I say wanting to change the subject. "O.K! " Lady replied.
Chapter 5: The Same Voice
Narrator: Anais
Hi! I'm Anais from the Amzing World of Gumball. Yup, i'm the 1st NOT Adventure Time character to narrate. So if you don't watch AMOG i'm a pink, smart bunny. My brother Gumball and Darwin are also in this game. So here I am minding my own buisness when some small cat thing tackles my ear. "Hey cat get off my ear!" I scream. "Hey you sound like me! Anyway you might me useful," the cat said. "Well I guess I can be allies with you but who ARE you?" I ask. " I'm Me-Mow. I'm an assassin from the Guild Of Assassins." Me-Mow says. We build a camp. " I here someone talking." Me-Mow says. "Yes Darwin this area is safe" a tribute said. I recognize the voice! It's GUMBALL! Me-Mow runs swiftly and runs after them. OMG! So I guess i'm here in this camp alone. 3 minutes later I cheack my Ipod. Gumball survived. Darwin didn't. I get mad. "Me-Mow I'M GOING TO KILL YOU" I sceam running towards the woods.