Where do I start...
This is what I believe Goliad will look like: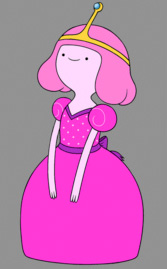 ALRIGHT, I KNOW WHAT YOU'RE THINKING! But hear me out:
First off, Goliad is voiced by Isabella Acres, who voiced 13-year old PB. Second off, she knew Finn's name. Perhaps Goliad is a de-aged clone of PB.
Then there's this: what if PB made Goliad not as her replacement in case of her death, but as a love interest for Finn? Then again, though, what would Flame Princess think?
What are your thoughts?