As you all know, many websites are protesting SOPA and PIPA right now, Google and Wikipedia among them. I fully reject these bills, and may resort to anarchy should they pass!
This will be the protests' anthem: [1]
Will you join in our crusade against the evil men in Congress? THEY WILL HEAR THE PEOPLE SING THE SONG OF ANGRY NERDS! ESPECIALLY JAMES ROLFE!!!!!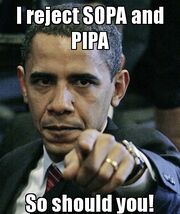 WHO'S WITH ME?!
Ad blocker interference detected!
Wikia is a free-to-use site that makes money from advertising. We have a modified experience for viewers using ad blockers

Wikia is not accessible if you've made further modifications. Remove the custom ad blocker rule(s) and the page will load as expected.