As you all know, many websites are protesting SOPA and PIPA right now, Google and Wikipedia among them. I fully reject these bills, and may resort to anarchy should they pass!
This will be the protests' anthem: [1]
Will you join in our crusade against the evil men in Congress? THEY WILL HEAR THE PEOPLE SING THE SONG OF ANGRY NERDS! ESPECIALLY JAMES ROLFE!!!!!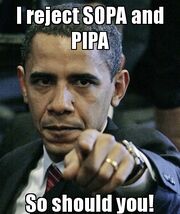 WHO'S WITH ME?!