You have not been listening to her, just like Finn and Jake. She has been trying to explain that if she didn't lock FP up she might destroy the planet. True that didn't happen and she became stabilized losing all hope for Fumblegum but here it is, was PB a jerk? No. Was PB looking a bit sad when FP and Finn symbolically kissed? Yes. Was it because of Jealousy? She's 18, do you really think she wants to date a 14 year old? Maybe when she was 13, but that's different, you can't love someone who's your own age like a mom. PB always loved Finn, enough to kiss him and give him sweaters and worry, but not like he's her boyfriend, it seems many fans don't get that. So that's my analysis on Fumblegum, and don't worry Princess Bonnibel "Peebles" Bubblegum, you will always be my favorite princess.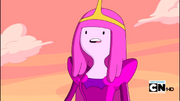 Comment on this entry!

Ad blocker interference detected!
Wikia is a free-to-use site that makes money from advertising. We have a modified experience for viewers using ad blockers

Wikia is not accessible if you've made further modifications. Remove the custom ad blocker rule(s) and the page will load as expected.