Ok I need art practice and inspiration so im going to draw what I think you look like! Comment if you w
ant me to draw you and don't give me info on you cause I need to be creative and stuff. If it doesnt come out the way you want it to, don't take it offensively. I'l also draw users randomly SORRY!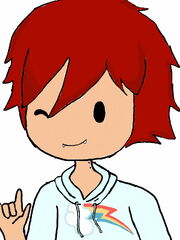 I drew SaberSworn first:
Then Vampire King of Ooo:
Then Ferbot:
Then Happy Smoothie:
Then Perrystar:
UPDATE!!! IM PUTTING THE PICS IN THE COMMENTS NOW, ITS JUST EASIER FOR ME AND YOU. TO COMMENT ON A DRAWING LEAVE A REPLY ON THE COMMENT. SORRY CAP LOCK IS STUCK!!