Hello everyone!! This wiki will sooooooon be having a Drawing Marathon, it's gonna be totally awesome and fun!!  This is more than you think it is!! This is the first ever Drawing Marathon in the AT Wiki and we will have this every year! Remember that everyone can join! And everyone, due to a message I recently got from the wikia staff, we'll have a slight name change from Adventure Time Wiki's Drawing Marathon to Adventure Time Community Drawing Marathon. And will not ONLY happen in this wiki, but it other places too, but the main venue will still be in the Wikia, and most of it will happen here.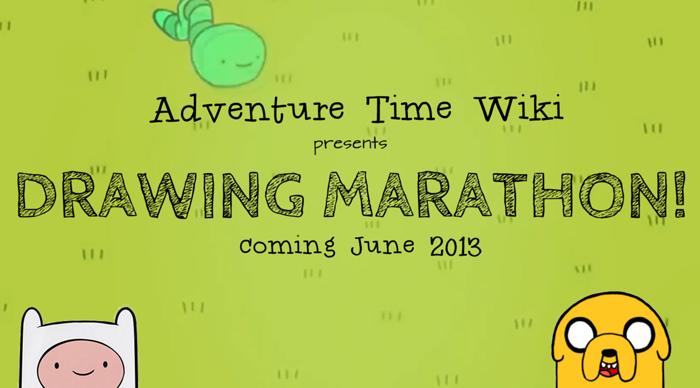 How will this go?
Sign Up
First you all sign up by commenting on this blog or tell the members of the committee (not sub-committee) on chat or talk page. We will be promoting this on chat too. In the start of the Drawing Marathon we will have a second sign-up sheet to confirm if your participation.
Trial Week
We will be having a trial week that starts on June 2nd June 10th to see how it goes, sponsors will also be compiled during the trial week (or at the Drawing Marathon if needed).
ATTENTION! TRIAL WEEK STARTS JUNE 10TH
Our topic will be the Fire Kingdom and It's Residents.
The Drawing Marathon
It will start as soon as we think it's already ready! So your participation will be surely needed! It will be on June until July 2013 and will last about 5 to 6 weeks, so be sure to join us and be there!
Drawing
The committee will give out a topic every 5 days, the participants will draw according to the topic. Everybody in the wiki will have a right to vote who deserves to win every challenge. 
Posting and Submitting
You will each create a link.
The link would be: http://adventuretime.wikia.com/wiki/user:(your username)/DrawingMarathon
Remember to inform us yor link, because you will need it in every challenge, and the committee will re-post your drawing in a blog so people can vote and order. Also, please inform us everytime you have submitted a drawing (preferably by talkpage)
Voting
Everyone has a right to vote. Feel free to vote for your favourite art. Do not vote art because the artist told you so or is your friend. Vote because you think the artist's art is good and deserves to win the challenge.
We will post the art entries you post in your page (inform us first), and put it on a blog for people to vote. The artist with most votes will win as "people's favourite" and the artist the panel of judges choose will win as "judges' favourite". Each will get a badge for their profile and art page. We will also have a "Late Submission" category for late submissions, and will work the same as usual topics (go to FAQ), though we prefer to have your art submitted on time.
TBA
The Committee
Head of the Committee
The Sub-Committee 
Section: Charity
Section: Information
Section: Relations
Section: Sales
Section: Critics
(each section recruiting for more members)
The Panel of Judges
(currently recruiting more members)
TBA 
FAQ
Do I need money to join the Drawing Marathon?
Oh no, not at all!! You don't need any money!!
​We're getting some to help us!
We will be giving out the topics every 5 days and you draw according to topic.
​The trial week will be held on June 2nd, and the real Drawing Marathon will start as soon as we think this is ready! It will be on June - July 2013 and will last about 5 - 6 weeks. Be sure to join us and be there!
How do I order a tee or print? How do I pay?
​By contacting the committee via talkpage, we will give you a contract to avoid prank callers and trolls. And we will meet via chatroom.
How do I contact the committee?
​Via Talkpage. The committee's talkpages are this (BloodHunter99) and this (Beemo). Remember to follow the rules and sign with 4 tidles (~) or by clicking the signature button.
Is there a deadline for submission?
​Technically yes and no at the same time. Please report us for late submissions and we will classify your artwork into the "Late Submission" category, people will vote for the best "Late Artist" and the panel of judges will also get their vote, people can still order prints and tees from the "Late Submission" category. It works exactly as the ones which are submitted on time, though we would prefer if you submitted on time.
TBA