So, we all know how many talented artist-users are here, right? So, I decided we have a drawing marathon. So, I asked a few users if they could be the committee. And we started to ask users if they want to join. So I'll put all the info here. Thanks.
Committee
Presidents
Members
Contact Person
Requirements
Sign Up
Please fill in the sign up format and post it in my talkpage or Cat's talkpage if you commented it, please let us know by chat or by posting "I commented on the blog" in Cat or my talkpage.
Format
"I sign up"
Username :
Age :
Favourite Drawing Type : manga/american/original/etc
Favourite User Drawing : (write both male and female)
Favourite Show/Movie to do fanart :
Drawing :
User Drawing Link :
Drawing Link : DeviantArt, Tumblr, Instagram, etc.
Example
"I sign up"
Username : BloodHunter99
Age : 13
Favourite Drawing Type : Semi-Manga Semi-American-Comic
Favourite Show to do fanart : Adventure Time, ATLA, The Hunger Games
Drawing :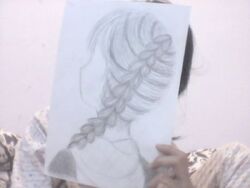 User Drawing Link : User:BloodHunter99/Drawing-Marathon
Drawing Link : http://bloodhunter99.deviantart.com/gallery
Information
This takes place in June 2013 until July or August. After it is done, the best contestants (including the committee if they are voted favourite) will join the election of the King and Queen of drawing. Every year there is a new King and Queen, unless the current King or Queen wins again. It is mandatory for all users to participate in the voting, with an exception of the candidates, trollers, spammers and non-usuals. Sign ups take place before June 2013. From September 2012 until May 2013. Good Luck! May the odds be ever in your favor!
MAY THE ODDS BE EVER IN YOUR FAVOR!