Okay, so now that we know that Lady is preggers, we all have something to discuss. WHAT WILL THEIR PUPS LOOK LIKE? Uncle Finn, Grandma Margret and Grandpa Joshua, and parents? This will be a whole new bar for Adventure Time. I think what this hybrid will be called a Rainipups and Dogicorns. Funny, the Rainicorns and the Dogs had a big war, and now there is Rainipups. Heh, heh.
Post pictures or what you think what the puppies/puppy will look like. I've posted a pic of what I think what they all will look like...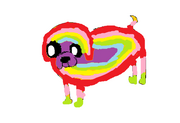 What do you think? Leave comments!
Ad blocker interference detected!
Wikia is a free-to-use site that makes money from advertising. We have a modified experience for viewers using ad blockers

Wikia is not accessible if you've made further modifications. Remove the custom ad blocker rule(s) and the page will load as expected.