To review Burning Low, I LOVED IT. I thought it was awesome that FP came back. It was sweet of Finn to say, "I can't let you go, I won't be happy without you." And I believe this was the first time that Finn confessed to PB that he loved her? And he's right, she should let them be happy. I though Jake's face was halarius whenever they kissed. :) At the end, when PB said that she was stable, does that mean they can kiss without the world exploding? And will we ever see FP again?
I will be reviewing B-MO Noire when it comes out.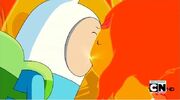 Ad blocker interference detected!
Wikia is a free-to-use site that makes money from advertising. We have a modified experience for viewers using ad blockers

Wikia is not accessible if you've made further modifications. Remove the custom ad blocker rule(s) and the page will load as expected.