Hi everyone, Blushing Flame Princess with my first blog post on the Adventure Time wiki...
To review the latest episode, Princess Cookie, I personaly think it was cute. I loved the plot, and I find it pretty funny that Baby-Snaps wanted to be a princess. I don't know if anyone noticed, but in the background Stormo and Goliad are seen continuing their "phycic showdown." And I also enjoyed that Jake turned againts what are usually the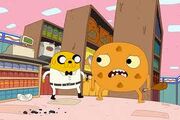 "good guys," Peebles and Finn, to help Baby-Snaps and consider him royalty. I also love that he gave him a crown at the hostbital as a mailman. But... Jake hates Princess Bubblegum? Or was he just kidding to stall the rouge cookie?
I'll be reviewing "Card Wars" once it comes out. Thanks for reading!
-Blushing Flame Princess