Hello everyone and welcome to the Survival Game of Adventure Time. The game in which we eliminate the characters that are least liked so that eventually the most liked character will be on top! I did something similar once before (called VOTE ONE OFF!) but this time it features more characters, who at least appeared twice in the show, or have been really important (or favs of mine).
The voting will go like this: There is a poll underneath the picture of characters still in the game. The character who has the most votes by tomorrow is eliminated and will be added to the Dweeb List (which will be underneath the poll). This will go on until there is one left, who then shall be crowned as the winner.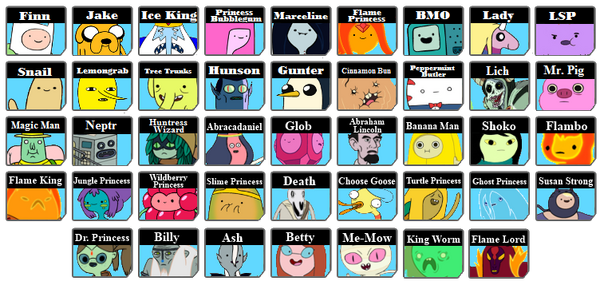 Dweeb List
Ricardio † (17 Feb - 20 Feb 2014)
Xergiok † (17 Feb - 18 Feb 2014)
Ad blocker interference detected!
Wikia is a free-to-use site that makes money from advertising. We have a modified experience for viewers using ad blockers

Wikia is not accessible if you've made further modifications. Remove the custom ad blocker rule(s) and the page will load as expected.