I just found this somewhere online. It's most likely rom the AT theory blog. It makes so much sense. I bet that, during the Mushroom War, the government was working on some cloning project that would help them win the war in someway. The project went wrong, creating Princess Princess Princess and, if she has a kingdom of her own (Kingdom Kingdom Kingdom?), the "People People People".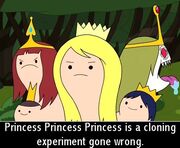 Ad blocker interference detected!
Wikia is a free-to-use site that makes money from advertising. We have a modified experience for viewers using ad blockers

Wikia is not accessible if you've made further modifications. Remove the custom ad blocker rule(s) and the page will load as expected.