oh my gosh i am so freakn' excited about the ranicorn puppies.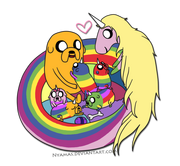 I might even chang my profil pic to one of these adorable fanart pics!
Now, heres the ?, what will they look like? my friend wants it to be 2 ranicorns and 2 puppies, but i just want them to be cute. tell mewhat you think! p.s. just realized probly 9 months till we see!!!