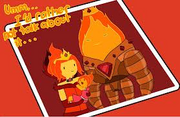 We all ask our selfs where are finns parents? Jake's? Marcline's mom? but think about
Flame Princess
nothing has ever been said about her mom and i want to know ,like was she good? Did she have Flame Princesses powers? is she still alive? i think there should be an episode  about that and a lot of other things because some of the episodes are just strange or pointless  and there should be more about the war and i hope that there are because us as fans dont get what they are trying to tell us unless the show us, right?
FlamePrincess416
(
talk
) 21:58, March 21, 2013 (UTC)
Ad blocker interference detected!
Wikia is a free-to-use site that makes money from advertising. We have a modified experience for viewers using ad blockers

Wikia is not accessible if you've made further modifications. Remove the custom ad blocker rule(s) and the page will load as expected.