Comments

10
Is Princess Bubblegum cooler than Mario's Princess Peach?
I'm sure everyone is familiar with Super Mario's sweetheart, Princess Peach, ruler of the Mushroom Kingdom and frequent captive of King Bowser. In fact, she seems to let herself be a captive a little too frequently, only fighting back on a few occasions.
Princess Bubblegum is
kinda like that on Adventure Time, being
Ice King
's main target, but after seeing episodes like
Lady & Peebles
, I realized how awesome she really is. Even though PB plays damsel in distress sometimes, she definitely knows how to kick butt every once in a while (and how to solve an algebraic equation).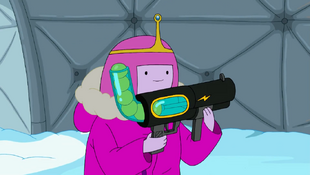 Bottom line, PB is definitely more awesome than Peach, but I'm more than happy to hear your input. ~_~
Ad blocker interference detected!
Wikia is a free-to-use site that makes money from advertising. We have a modified experience for viewers using ad blockers

Wikia is not accessible if you've made further modifications. Remove the custom ad blocker rule(s) and the page will load as expected.