I'm sure everyone is familiar with Super Mario's sweetheart, Princess Peach, ruler of the Mushroom Kingdom and frequent captive of King Bowser. In fact, she seems to let herself be a captive a little too frequently, only fighting back on a few occasions.
Princess Bubblegum is
kinda like that on Adventure Time, being
Ice King
's main target, but after seeing episodes like
Lady & Peebles
, I realized how awesome she really is. Even though PB plays damsel in distress sometimes, she definitely knows how to kick butt every once in a while (and how to solve an algebraic equation).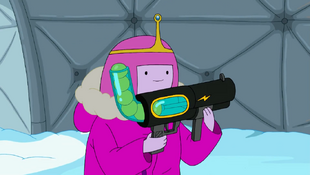 Bottom line, PB is definitely more awesome than Peach, but I'm more than happy to hear your input. ~_~