Remember that weird dream sequence from "BMO Noire?"
Yeah, well at first I think we all had the same reaction to that. But there's one part in the dream where Finn and Jake are looking for BMO, saying they're really worried about him.
Something tells me that that may have some connection. I mean, Adventure Time is known for doing seemingly random junk and turning it into a future plot point.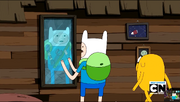 Also, the baby looks kinda like a baby ogre.