Comments

1k
"Burning Low" potential occurance analysis. IMPORTANT.
Edit: (31/7/2012 @ 16:41pm GMT)
I have this to say: That was a pretty awesome episode.
None of my theories fits in exactly (despite that I made a lot) however the theory I put below about PB having Flame Princess enclosed because Tier 2 might lead to some devastating burning effects due to the connection between Fp's emotions and her powers was absolutely accurate. I think I developed that theory more in the comments than the actual blog, but I was pretty right.
And whoever said that the paper held a love poem was correct so congrats to them :) We never heard the final love poem. We'll leave that to the fan-canon.
Basically, as I said, it was a Ricardio-style misinterpretation. Except, this time PB knew for definite that a threat existed, and it wasn't necessarily an evil one because it also put the threatholder at risk.
Now for my views of the actual contents of the episode:
The beginning was that awesome moment we saw at the Comic Con. Then there was a hilarious scene where it looked like PB was looting them casually where it turns out she was collecting taxes (which makes no sense but I'll allow them the excuse of this plothole to get PB into the episode) and then Finn does the most epic flip ever. PB was fine with respecting Finn's business but Jake just HAD to spit it out that it was Flame Princess... and then Jake started this cycle of what he assumed to be jealousy... it's a good thing that he told PB that Finn was dating Flame Princess but he acts like a jerk for 80% of the episode. He deliberately disrespected Finn's private business, perhaps to see if he could make PB jealous, which is pretty nasty of him.
And then it turns out that the title card for the episode was incorrect, because we never had a scene like that, and what we see under PB's pillow turns out to be a DIARY. What else would it be? ;)
A diary she writes in with mathematical equations.
So she writes about Finn and Flame Princess.
"I thought I would be ready for this" - ready to see Flame Princess released from the Fire Kingdom? To face the possibility that the world could end with a tiny bit of love?
So then the next day PB goes to explain to them about relationships and why Finn can't have one with FP, but neither Finn nor Jake actually care to listen. Finn dashes off to see his GF while Jake just falls asleep randomly (jerk syndrome again). So then Jake assumes it's JEALOUSY, and PUTS THIS IN FINN'S HEAD. Finn looks pretty thoughtful about this but Jake seems to take amusement from it.
And here is when the episode starts to get epicly dramatic.
Finn puts PB's next-day conversation with him into the context that she is jealous of his relationship with Flame Princess. So Finn completely snaps and admits that he used to love her and has now moved on and doesn't want her to break his heart again.
This is a highly important moment in the relationship history of Adventure Time - it's the death of Fubblegum and also an introduction into the possibility that PB has had romantic feelings for someone in the past. People can take this to mean that she genuinely had feelings for Finn, but we don't actually know that - she could be talking about ANYONE.
And the closest competition in PB shipping to Finn... is Marceline. So the Bubbline fans are rejoicing right now.
And PB also knows that she broke Finn's heart for sure now...
Jake put the icing on the cake back at the treehouse. I've already explained that.
So then after what we saw in the 4th preview with the hilarious bacon pancakes scene and Jake's rant, we saw the real, super-geological explanation for why Finn and FP shouldn't reach Tier 2 - she would get so romantically excited with her apparently unstable elematrix(?) that she would burn into the earth's core and destroy the planet from the inside. This immediately caused much tension, particularly with the dramatic music. We learnt something important which is that PB was the one who told FP's father to lock her up.
So we get to the point when we see Finn and FP kissing and it causes AWESOME EPIC BEAM OF LIGHT as Flame Princess starts sinking, and Finn is already scalded and hurt, and he goes down to get her... and PB comes up with the plan to make them burn run out of oxygen... at the possible extent both of Finn and Flame Princess. I shouldn't take this as "evil" or "malicious" thinking - it's actually highly logical. Remember what she said about making sacrifices? Well, two young people or the world... a hard choice that PB had to make but she made it. That's why she's a brilliant ruler, people. SHE SAVED THE WORLD SO WHY ARE YOU HATING ON THAT FACT? Poor Finn and Flame Princess were fine in the end. Stop hating on PB for any reason you can find - she was in-character.
Finn ended up with loads of burns... sharing his last breath with Flame Princess... which saved her life. This is incredibly symbolic of how much he loves her - he would kiss fire for her.
And at the end there... PB is watching Finn and Flame Princess kiss a rock as a compromise to Tier 2 and seems to be yearning for something.
Was she feeling sad to see Finn injured? Or sad to see him growing up?
And then Jake turns on the jerk-syndrome again at the very end, going "jeeeeaaaalooous?"
And PB says "Shut up" lightheartedly, in a tone of relief.
Those last lines have been heavily speculated on and are open to interpretation. Was PB genuinely jealous of anything after seeing the love that FP and Finn shared? Was it jealousy of Flame Princess, or of them both for having such a relationship and being able to juggle it between heroism when she was unable to do the same with her profession?
In summary, Jake provided a little comic relief, PB provided the tension, and Finn and Flame Princess provided the drama.
Perhaps the most dramatic and tensest episode in the history of Adventure Time, it was certainly unique in the way it was played out.
Now, what I want to know is where Fire King goes in all this. Edit: (31/7/2012 @ 01:06am GMT)
I haven't actually seen the episode yet.... but I've seen the Wiki.
And it turns out...
I WAS FLIPPING RIGHT!
"I have to say, if you still think that the reason PB is trying to stop FinnxFP is jealousy, you are very wrong. Perhaps, from the look of this pic, she is trying to save Flame princess from herself."
Gonna add moar to dis

Edit: (28/7/2012 @ 23:04pm GMT)
Take a look at this. This is the promotional art by Rebecca Sugar.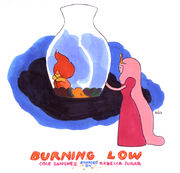 I think this is the final piece of proof I need to tell that PB knows something about FP that Finn doesn't.
Flame Princess is pretty tiny in this rather heartbreaking picture. And is that PB showing concern as well? Did she help the Fire Kingdom seal flame Princess or was she against the idea?
They definitely know each other.
The reason why I am speaking as if this is something in the past and isn't going to happen in the show is because this is generally the case of promotional art, like the "What Was Missing" promo art with shorter-haired (but same-age) PB and with Marceline wearing that rocker shirt, and with "Sons of Mars" where we saw Margles falling to her death as Magic Man tries to save her.
The dimensions of this drawing are very confusing. Is PB HOLDING the jar (unlikely) or is FP at quite a distance?
I have to say, if you still think that the reason PB is trying to stop FinnxFP is jealousy, you are very wrong. Perhaps, from the look of this pic, she is trying to save Flame princess from herself.
And perhaps FP will go "back in the bottle" willingly...

Edit: (27/7/2012 @ 10:48am GMT)
Here's a little comic I made and posted on DeviantART.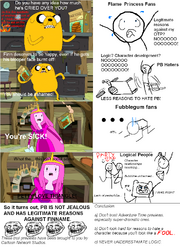 Not that I hate Flame Princess fans, because I like Flame Princess. However, most of you are illogical Die-For-My-Ship-pers.
And the Fubblegum fans are generally PB haters anyway. (Why?)
My original picture had some bad words in so I censored it for you folks. Badly, because I made it on MS paint and couldn't just remove the text I'd put onto it. Edit: (26/7/2012 @ 01:57am GMT)
http://www.youtube.com/watch?v=vyq5ZbtH-sM
Look at that trailer and tell me I wasn't right.
I am super happy now that I've seen that. Look how confused she is at Jake's accusations, she realises that he thought she was jealous and that this was a love triangle and puts it out there that it isn't.
Jake puts it straight that PB had seriously damaged Finn and that he's ashamed of her.
PB's reaction is my final proof that this was a Ricardio-style episode.
I saw this video mentioned on the Burning Low talk page and am not sure if it is a leak or if it was on TV.
What I really want to know now is what did Finn draw on that piece of paper?
Now I'm looking forward t that episode more than ever. PB will perhaps finally face the guilt she deserves for her treatment of Finn. Edit: (24/7/2012 @ 19:09pm GMT)
SECOND edit, not even 24 hours, but I've seen the new LONG preview for this episode now and have more theories so I should post them.
f) Princess Bubblegum is concerned that Finn will stop being a hero for the Candy Kingdom because he's 'siding with the enemy' as such (we can pretty much guess that there has been past tension between the Candy and Flame kingdoms) and also because he's chasing after a girlfriend. PB says "I thought I would be ready for this" could mean that she thought that Finn wouldn't leave until another hero was ready to take his place or until the Candy Kingdom is developed enough to fend for itself against its enemies (such development being seen in "Princess Cookie"). Therefore, because this isn't the case and the Candy Kingdom (and PB) will be defenseless against threats. Finn might actually be trying to leave Ooo for some reason, he might want to become a flame person, we don't know the full story. So since PB reckons her kingdom is always top priority, she tries to reason with Finn, to break up his relationship with FP for the sake of Ooo and the Candy people.
Jake of course misinterprets it as jealousy (like in theory C) and gives Finn this impression, Finn acts like Marceline did at the end of "Go With Me" but more horrified, something happens that makes FP go away and then we continue with our lives.
g) An interesting theory that LittleGhostPrankster shared with me. PB is maternally protective over Finn. This would not be out-of-character at all, unlike jealousy, because as we saw in "Mortal Folly" she does fret over Finn's safety, even over trivial things like warmth, so him dating an evil fire princess who can burn his face off by kissing him is not going to go down well in her books. Also, she might just be worried about the innocent boy growing up, because "I thought I would be ready for this" could fit with her thinking that she would be ready to see little Finn grow up but then panicking and being protective when he does.
Either way , this gif here makes complete sense.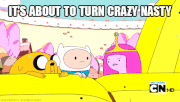 There are currently fanwars all over about whether PBxF or FPxF is a better pairing. I think the previews are deliberately misleading us into thinking that there is something romantic going on to get more viewers for the episode - in that case, why don't we go and assassinate the PR staff right now?

'Edit': (24/7/2012 @ 03:33am GMT)
Okay, we've seen the official previews for the episode (comic-con and the new short preview, it's yet to be seen if another long one comes out) and it looks like theory c) is the most likely. We can pretty much dump theories d) and e) but theories a) + b) are still likely, if mixed together in some form with c).
From the latest preview, we see PB speaking to Jake, asking him to tell finn why he can't see Flame Princess anymore. To which Jake says, presumable in front of her face, "PB is totally jealous of Flame Princess!" and then we get some fancy promo art to go with it.
But this promo art by itself tells us a heck of a lot about the episode.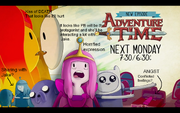 I made a small analysis in the picture on the right if you dare to cick it.
Basically, my theory is that this episode will be like "Ricardio the Heart Guy" - suspicion and hatred is misinterpretated as jealousy, once again by Jake, whilst there is a truly legitimate reason for PB's actions - and I think it will share a trait with "Princess Cookie" or even "Thank You" in that the protagonist and narrator of the story isn't going to be Finn but another character, in this case Princess Bubblegum. We might be anchored to her through Jake's experiences, explaining the reason why he is the only one who is present in both previews. This promo art makes it definitely look like this will be PB's story. She is the only character coloured in anywhere before the bacground, and she is in front of the rest of them. When people made art like this on DA they envisioned some kind of showdown between PB and FP with FINN being the one in-the-middle, so this is an interesting twist on that cliche idea.
In this art we see Finn and FP being romantic, PB looking horrified about something, Finn looking adorable reaching for a hug, Jake looking sceptical about something or other, PB and Jake bonding (PB looks adorable there o_o) and PB being all angsty on a bed.
The thing that worries me the most is the PB-angsting-on-bed picture. It makes me think that she is encountering some conflicting feelings about something. Hopefully this is not romantic angst. The last thing we need is a pedo-in-denial PB.
I wonder how much of this will be in the actual episode?

Cheezburger

02:56, July 24, 2012 (UTC)
______________________________________________________
Original post:

According to a reliable TV guide that posts episode descriptions based on PREVIEWS that we haven't seen yet, 'Burning Low' will contain Finn hanging out with Flame Princess, and a 'maybe' jealous Princess Bubblegum.
Since this episode will clearly be extremely important, ESPECIALLY since it's the first of a two-parter, but it's in the middle of the series rather than at the end (at which something dramatic will happen), we can expect it to contain sume huge character development on the parts of PB, Finn and Flame Princess. In PB's part, if she IS jealous there is a 90% chance that there will be NEGATIVE character development.
So, I'm going to re-post my theories I made on another blog here:

"a) This episode is what everyone expects it to be. Princess Bubblegum is romantically jealous of Finn averting his affection and starts to get mad with FP and they have a beeatchfight of some sort resulting in Finn taking Fionna's perspective and going 'Screw this, I dont need a GF' OR dumping PB himself OR some kind of war between the flame and candy kingdoms, leading onto Ignition Point where the war goes on and a character is left in the dust. In this version, PB will definitely come out looking like the jerk because FP is only 13. Since I've spent the whole of my time on the Wiki debating why she ISN'T a jerk, this will be a kick in the boing-loings for me. Also because I detest Fubblegum. It's statutory. And isn't Princess Bubblegum unaging? What happens when Finn grows OLD?
b) PB is jealous in a NON-romantic way of how Finn is getting the attention of Flame Princess. Pretty much same as above but another possibility is that she accepts Flame Princess and how Finn needs her to heal his heart.
c) It's a misinterpretation of Finn's that PB would become jealous or is jealous when she is really apathetic but suspicious. Perhaps a 'Ricardio the Heart Guy' situation, like how Finn knew that Ricardio was evil when Jake dismissed this as jealousy. In PB's case, this could be 'threat' rather than 'evil'. We know how she is with her kingdom. Or Finn is just trying to hide FP from PB. Keyword 'may be jealous', not 'is jealous'; there is a difference, a large one at that.
d) Finn tries to hang out with both FP and PB like Jake with LR and Finn.
e) It's not just PB that's jealous but Marceline too (those descs will only really describe the preview) and they try to get Finn back in the group by hanging out or something (like Finn and Marceline in 'go With Me'). Which would be an interesting episode for character development. Beemo and Jake with them at all? Band? MUSIC? Let's hope so.
Rebecca Sugar and Cole Sanchez are writing this so we can expect it to have a musical number or two.
Basically, if Marceline's jelly too, then I'm completely fine. If PB is jelly in a non-romantic way, I'm completely fine. If PB is jelly in a slightly romantic way but accepts FP then I'm ... okay.
If PB gets all 'OMG FINN IS MINE', then I will kill Pen Ward. That would ruin most of the point of watching the darn show because it would turn PB or FP or both into jerks, it would probably destroy the concept of potentially canonical ex-Bubbline and using this show as an example against homophobia would be void, it would endorse statutory relationships, it would be EXTREMELY out of character for PB to get jealous anyway, it would be cliche, it would probably be slightly sexist or stereotypical on girls (cliche again). "
That is the post.
What's your opinions? It's clear that I was pretty infuriated when I read the description for that episode.
But that's just me.