So you know these title cards on every episodes? You think they were very good? I agree. But while I watch episodes, sometimes there are really crappy title cards so this is why I made a list of AT title cards that artists really need to work again. This is only a list, if you know a crappy title card, let me know and I will add it!
Goliad
So when you're watching episodes, you see title cards that tells you the title? Well, this artist need to change the title card 'Goliad' because the art reveals Goliad and the viewers will know what's happening and think 'looks like PB made Goliad'. Then the viewers were right. See? That's why title cards has to be CAREFUL.
Gut Grinder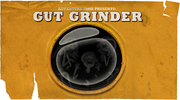 sigh* a crappy episode with a crappy title card... How weird is that? Anyway, the artist needs to work on this one because it got nothing to be with the show. The viewers will get confused and when they go close, they will be shocked that there are 3 teen boys screaming in the black glass... Creepy.. I haven't watched this episode so I will ask 2 question: Why is there the circle black glass and why there are 3 teen boys screaming in it?!
Slow Love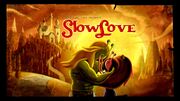 Ok, wtf. This title card is so weird that I don't want to talk about it...
Morituri Te Salutamus
Ok, I didn't watch this video but when I saw the title card, I went like WTF. Look at this title card. So weird and strange. When viewers sees the title card, they will go like wtf with the title name and the title card. Remember, I didn't watch this.
Who Would Win (title card cannot be found)
This is more about the title name instead of title card. The title name will confuse the viewers and thinking it's about a game when they see Finn and Jake makes an argument about who will win in a battle like Videomakers. If you look quite far away, it looks like Jake is trying to beat Finn with a video game playing on a video game console. I made that mistake too.
Jake The Dog
The episode was awesome. Title card? Na. Look at it. It's too stupid. It just tells Jake's favourite things: pickles and tv remotes. And by the way, Jake looks creepy in the title card... Idk anything to say about it.