I can't search anthing anymore without getting filthy images. i think they are trying to get kids by puting drawings of adventure time characters naked. I'm not putting the names so people won't go looking. your not impressing anybody (well mabey a few sickos.) and giving kids a twisted, violated feeling.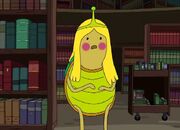 i hate to say it, but i was a victim of this, and i felt violated.
Ad blocker interference detected!
Wikia is a free-to-use site that makes money from advertising. We have a modified experience for viewers using ad blockers

Wikia is not accessible if you've made further modifications. Remove the custom ad blocker rule(s) and the page will load as expected.