Some Headcanon facts about the Creations of Princess Bubblegum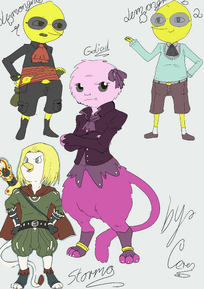 A little to the personalitys they have in my Fanfiction:
Goliad: She is the typical sassy tween character, she thinks she is right always and thinks everything has to go after her way. Goliad also is very fascinated by science and she only shows respect toward Bubblegum and despises the older Lemongrab. Both have a very hard relationship which often escalate.
Stormo: The good part of the quintett. He tries everything to calm down his sister to a content where she isnt dangerous to her surroundings. His heroic deeds are far known in Ooo and he is like his DNA Donor Finn, righteous and full of enthusiasm. He is on very good terms with both Lemongrabs, especially the younger one of them. They use to do brofists like Jake and Finn do. He is not as intelligent as Goliad but still have powerful psychic powers and has in contrast to Goliad absolutely no interest in science. Stormo likes to wear battle suits.
Lemongrab: The older Lemon twin is like his adult self, obnoxious and very noisy when he isnt around his younger twin brother. If he is in company with him, he can be nice and is able to accept persons outside of his used surroundings. LG is due to his now even younger age, very playful and likes to pull pranks. Especially on Goliad who both hate each other with a passion. He also eats away his sisters dessert often to anger her. LG has a much better Relationship as his adult self with Bubblegum. He use to cuddle with her often, maybe to compensate the lack of affection he recieved as he really was a child. He has a knack for strange outfits and loves to wear glasses. This threat he shares with his twin. Both use to speak in unison often, much to their mothers distaste.
Lemongrab 2: The younger Twin is much nicer as his older twin but still has a lemon-like personality. He can be however be sour too, and even worse then his brother. But this is very rare. LG2 is the active part of the twins and often brings himself and LG1 into trouble. Loves to wear glasses and he has a faible for nerdy clothes. Goliad often mocks him for that. With Stormo he has a very good relationship, they even brofisting each other sometimes. Even LG2 is a vicious and cheeky little bastard, he also can be very nice, especially to Bubblegum. He often rivals with his twin for the attention of Princess Bubblegum. LG2 is also the youngest of the bunch but this doesnt really matter because he knows how to take his place in the castle, even he needs the help of his mischivous twinbrother for that sometimes.
This here is a little illustration with outfits that wear Goliad and co. on an important dinner which was held by Princess Bubblegum. She wanted to show her fellow scientists her well educated heirs. Not to mention that this dinner wasnt going as expected by PBs standards. Hehe.