ok so next week the episode betty will be on and apperently ice king turns back into simon. the weird part is i'm wondering how he turns back into simon. but also that he's trying to bring betty back from the dead or another part of the earth. OOO is only a part of the left over earth and PB already tested samples of a spot on the planet in the thing i'm wondering about the most though is; where & if simon knows how to bring back betty i mean wouldnt he need to find her body first since its been about a thousand years since the last saw eachother and also she was mortal when they did see eachother.
tell me what you thought about this and txt my blog if you have any questions.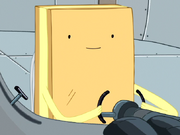 Ad blocker interference detected!
Wikia is a free-to-use site that makes money from advertising. We have a modified experience for viewers using ad blockers

Wikia is not accessible if you've made further modifications. Remove the custom ad blocker rule(s) and the page will load as expected.