Hi!
This is my first blog and I would just like to show you the missing few scenes in the episode "Fionna and Cake".
Other than what Marshall was supposed to say, he had a song too but it was cut. Too bad though. Well, here it is:
The snail can be found here.
Yeah, it's just fan animation, but this is how it was actually supposed to be.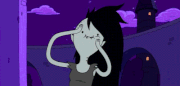 Ad blocker interference detected!
Wikia is a free-to-use site that makes money from advertising. We have a modified experience for viewers using ad blockers

Wikia is not accessible if you've made further modifications. Remove the custom ad blocker rule(s) and the page will load as expected.