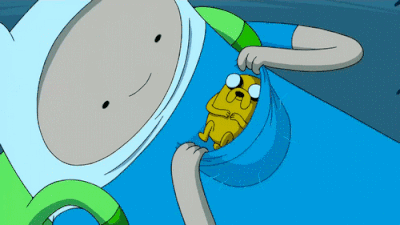 Good news for fans of Cartoon Network's delightful pair of popular absurdism-tinged cartoons, Adventure Time and Regular Show: the network has announced back-to-back Comic-Con panels on Friday, July 19th!
First up is the Regular Show panel, which will feature the "not-so-regular" cast and crew for an hour of ridiculous show-themed banter. Cartoon Network promises exclusive content and the inside scoop on all of your favorite characters. The panel features the following: Regular Show creator, JG Quintel (voice of Mordecai), William Salyers (voice of Rigby), Sam Marin (voice of Benson, Pops, and Muscle Man), Sean Szeles (Supervising Director), Toby Jones (Storyboard Artist) and Calvin Wong (Storyboard Artist).
Afterwards, Cartoon Network will showcase Adventure Time, with exclusive content and a star-packed panel, including the likes of the following: Adventure Time creator Pendleton Ward (Lumpy Space Princess), Jeremy Shada (Finn), John DiMaggio (Jake), Tom Kenny (Ice King), Olivia Olson (Marceline), Kent Osborne (Head of Story) and Adam Muto (Supervising Producer). It's GUARANTEED to be algebraic stuff.
What would you ask the panel if you were to attend? Let us know in the comments!
Be sure to check out the Comic-Con Wiki regularly for updates about the above panels and the convention in general.
---
---