This is where I'm going to put breif summaries of all the fanfictions I wrote for Adventure time. Most of them have Fionna and Cake in them but some are the regular charictors. Feel free to post suggestions on how to improve my fan fics or comments on them. I am willing to change my fan fics to make them more exciting or accurate.
I made a fan fiction about the time when Marshall Lee dies. I found that picture that Natasha Allegri drew and decided to wrote up this whloe story about it. I'm not done with writing it yet but once I am I'll post the plot on this page.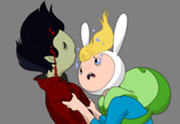 Ad blocker interference detected!
Wikia is a free-to-use site that makes money from advertising. We have a modified experience for viewers using ad blockers

Wikia is not accessible if you've made further modifications. Remove the custom ad blocker rule(s) and the page will load as expected.