YEAH YOU HEARD ME !!!!!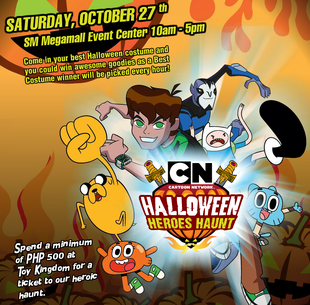 It's that time again for another CN event. It's called CN Hallowen Heroes Haunt. A halloween CN event of this year.Also it's one of those CN events that has mixed shows. There will be The Amazing World of Gumball,Regular show,another ben 10 (boy why do they even make another sequel of that) and also the most AWESOME SHOW Adventure Time.This CN event was announced at September 9, 2012, and it will occur this October 27, 2012, Saturday, at SM Megamall Event Center.
C.N condition about the event
Yeah same as always, CN events with condition. Almost all of CN halloween events has this. To get a ticket, you must spend at least P500 at Toy Kingdom or Toy Kingdom Express with a halloween item or a CN item from September 29, 2012 to October 27, 2012. Buying the ticket today or before the beginning of the date or having a receipt of P500 with no CN item or halloween item won't qualify to get the ticket of this event. The ticket could be good for two people (Unconfirmed but it usually often happens like last year).
For the people who want to be part of the event but cant come
You can support this event by making an artwork or a video related to it. Submission of artworks will be accepted until October 26, 2012 at 9 pm Philippine time. I will use those entries for CN staffs in the event.(if you post it on my comment, make sure you put your real signature with name on your artwork so me and randomced can post it on CN phil.)
Plans for the upcoming event
Im not sure if im gonna go with randomced and others on CN event. cuz theres so much expenses beside the ticket.beside i got 2 choices its either i go to megamall or ill go to BEL-AIR .Im gonna dress as an infamous Pipebombers (if you know him then you know this) random will be gumball-lish looking same as always there are some users like chibitracy,randomced sister and more that will go to the event (blugo,nihi havent decided if they will go or not) and also some known Wikia staff and Premium Crew meetup for Philppine members there.
Source
all the latest information and updates are right here ... if youre in the philippines and near makati or you know how to get to SM megamall. be sure to go with us we are happy to meet you IRL.
I wonder how many people will dress as AT characters or slenderman ..... anyways ILL SEEYA !!!