Hello, Mini speaking here, I would just like to let you all know that I will be temporary admin just until FP is "fully back." For right now he is in Mexico, and won't be on chat or the wiki as often as he may want to be. If you disagree, or even agree, then, please, leave a comment on whether you support or oppose this decision.
Thanks,
Mini
P.S. As per request by ITz, here are some corgis :D :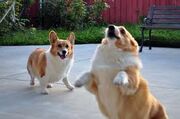 Ad blocker interference detected!
Wikia is a free-to-use site that makes money from advertising. We have a modified experience for viewers using ad blockers

Wikia is not accessible if you've made further modifications. Remove the custom ad blocker rule(s) and the page will load as expected.