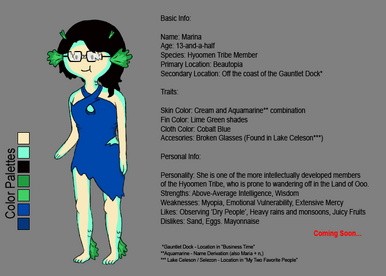 Isn't it
totes
annoying how almost every flippin' OC is either a human, princess 'er vampire? Well, it is.
So here is my OC, which is a part of the Hyoomen Tribe, such as our Susan Strong.
Basic Info
Name: Marina
Age: 13-and-a-half
Species: Hyoomen Tribe Member
Primary Location: Beautopia
Secondary Location: Off the coast of the Gaunlet Dock
Traits
Skin Color: Cream and Aquamarine
Fin Color: Lime Green shades
Cloth Color: Cobalt Blue
Accesorries: Broken Glasses (Found in Lake Celeson / Selezon)
Personal Info
Personality: She is one of the more intellectually developed members of the Hyoomen Tribe, who is prone to wandering in the Land of Ooo.
Strengths: Above-Average Intelligence, Wisdom, etc.
Weaknesses: Myopia, Emotional Vulnerability, Extensive Mercy, etc.
Likes: Observing 'Dry People', Heavy rains and monsoons, Juicy Fruits
Dislikes: Sand, Eggs, Mayonnaise

I may or may not make mediums of media concerning Marina, but it's definitely not going to have something to do with:
Marshall Lee
Love interest between any of the main characters
Royal affiliations
Tragic backstory
"Random" traits and personalities
Over-powering and the such.
Just a regular, out-of-the-left-field character that may just skip along the Land of Ooo and not leave any traces for future occurences concerning anything she might have done.
AAAAAAAADVENTURE TIME!!! :D