Comments

248
Flame Princess starring in New AT comic series
According to this...
http://www.comicsalliance.com/2013/01/07/adventure-time-playing-with-fire-vol-1-ogn-boom-studios-announcement/
From Boom!'s official solicitation info:
AN ALL-NEW ADVENTURE TIME ORGINAL GRAPHIC NOVEL! Join Flame Princess, alongside Finn and Jake, as she leaves the Flame Kingdom and goes on her very first adventure! Written by acclaimed cartoonist Danielle Corsetto (GIRLS WITH SLINGSHOTS) and drawn by rising star Zack Sterling (BRAVEST WARRIORS, ADVENTURE TIME). A pocket black and white edition appealing to fans of SCOTT PILGRIM and Japanese manga!
Release Date = April 2013 Casts = Written by Danielle Corsetto (Girls With Slingshots), illustrated by Zack Sterling (Adventure Time, Bravest Warriors) and featuring a cover by Stephanie Gonzaga, the OGN will come formatted similarly to a volume of manga or Bryan Lee O'Malley's Scott Pilgrim paperbacks. Characters = Finn, Jake, Flame Princess, & Flame King (possibly)
It will be Weighing in at 160 pages, the 6x9" black and white volume should prove especially compelling to those currently wrapped up in the increasingly dangerous romance blossoming between Finn and Flame Princess.

Read More: http://www.comicsalliance.com/2013/01/07/adventure-time-playing-with-fire-vol-1-ogn-boom-studios-announcement/#ixzz2HL2icovp
More Info: http://www.comicbookresources.com/?page=article&id=43132
You can see the first preview image of Gonzaga's Adventure Time Vol. 1: Playing With Fire OGN cover below.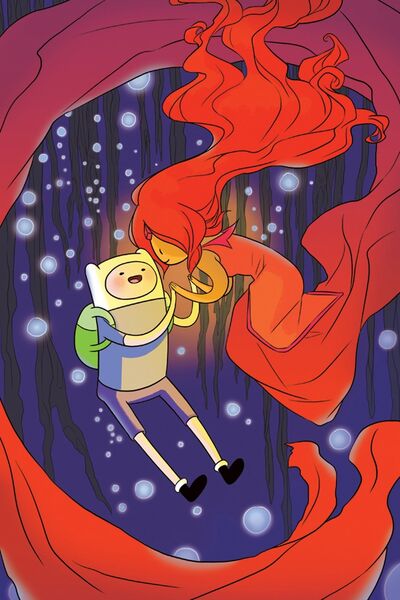 Adam Muto, a writter and creative director of AT, stated that it's going to take place outside of the show's continuity. http://www.formspring.me/MrMuto/q/417900273734800358
Maybe it'll shows us an event after Hot To The Touch & before Burning Low. And it said it will about Flame Princess exploring her adventure with Finn & Jake.
So I'm gonna warn you guys, Danielle Corsetto stated that this Graphic Novel will have romance in it.
It might not be a canon for the show, but still it's worth to read it. I love those couples.
Ad blocker interference detected!
Wikia is a free-to-use site that makes money from advertising. We have a modified experience for viewers using ad blockers

Wikia is not accessible if you've made further modifications. Remove the custom ad blocker rule(s) and the page will load as expected.