Blog renamed from Possible Kissing seen on Burning Low
Before Burning Low
As we know, a kissing seen is possible in this episode. Unlike Hot to the Touch, in the original storyboards, Flame Princess was supposed to kiss Finn. Then they (The Crew) decided to make them hug. The idea of kissing seen on Burning Low might make up for Hot to the Touch episode. However, we still don't know if the preview was a kissing seen of Finn and FP, but who know this might be it. I'm so excited, can't wait for it. Naah, I'll keep the patience and wait. Well anyhow, just hope that this won't epic fail like on the last part of Ricardio the Heart Guy.
Remember Jake said:
Stair 1: Hugs
Stair 2: Smooching
Stair 5: She'll let you discover all fifteen feet of her loong, beautiful stomach.
Stair 8: You touch her horn for the very first time, Very Special.
Stair 15: You stay away from that!
After Burning Low
Poll Results
Most got it right!
Question: Is this it? Step 2: Smooching?
17 votes - Yeah, for real-sies!
2 votes - No! This is an Epic Fail!
1 vote - IDK! I can't decide.
1 vote - Wew
Relationship becomes stronger
At the last part of Burning Low, shocked many fans that changed AT forever!!
| Incendium | Hot to the Touch | Burning Low |
| --- | --- | --- |
| | | |
| A Crush | Defiance to Nature | The Beginning of the 15 Tiers |
For the first time ever, Finn kissed a princess (FP) twice in one episode which is far beyond than Go With Me, Dream of Love, and especially Too Young (Combined!). This a new beginning for Finn x FP fans, does this mean that Finn x PB is reduced or dropped? The excitement of watching this episode made me it watched again and again.
Quoted 1/2 of the AT Facebook Post of Tuesday, July 31, 2012 at 5:37 AM, PST (UTC+8)
#TeamFlamePrincess wins it!
We challenged you to Like your favorite Princess Bubblegum-Finn-Flame Princess Facebook Milestone, and you met the challenge like the righteous heroes you are! The winner was Finn and Flame Princess from Hot to the Touch, when he declared that he would defy nature for her!
Gotta like Finn's gifts to FP
A house that was built by Finn with his own bare hands just for Flame Princess, that took probably hours and hours to build with his own blood, sweat and tears was worth it just to make a home for FP to live and be closer to him.
A poem of Finn's feelings to strengthen their relationship, that made them both giggle, also catapulted them to Tier 2 resulted with a sweet but very hot and powerful kiss to each other's lips (even though it was painful, it was still worth it).
Worm King
Woah! Looks like a dream come true that Finn get's to eat FP's soup and she has feed it to him. I kinda like even more, if that were for real-sies. XD
| | | |
| --- | --- | --- |
| " | "C'mon, honey. Eat your soup." | " |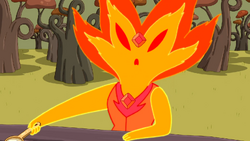 It looks like for real-sies, that this might happen in the future. The only thing that made wonder is why FP called Finn: "honey" ? and on what Tier are they when that happens in reality?
Anyways, what do you think of their relationship in Finn's dream?