I know there have been a few blogs like this... but I thought I'd make a new one. What is you favorite Adventure Time character? I have put a poll right here for a few...
What is your favorite adventure time character?
Remember to also put your favorite character in the comments! Also, please say why.
My Favorite Character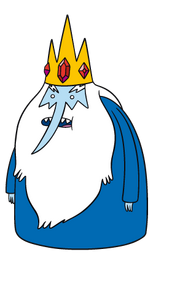 My favorite character is
Ice King
. I like him because he is a funny, innocent character. Yes, he steals princesses, but he's insane, what do you expect? I like him because he isn't really serious, and it seems like everything he says is a joke. Almost all of his episodes aren't serious and instead they are funny. I only like seriousness with him when it is his backstory, and even then he is still insane and crazy. So, yeah. That is why I like Ice King.
Ad blocker interference detected!
Wikia is a free-to-use site that makes money from advertising. We have a modified experience for viewers using ad blockers

Wikia is not accessible if you've made further modifications. Remove the custom ad blocker rule(s) and the page will load as expected.