Song in a deep manly Finn voice Based on a song on Youtube
Hey princess, I got something important to give you, So take a seat and listen
Oh, we've been best friends...for quite a while! (quite a while!)
And now I'm ready, to get you a gift, that's super fi-ine!
Oh, you know its your birthday, and my heart is open wiiide!!!
Gonna get you something, so you know what you can eat! (Gives present)
A gift so special, so open it wiiiide!
Take a look inside!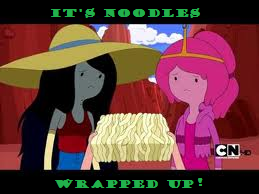 Not gonna give you my mighty sword!
That kinda stuff is kinda sore!
Not gonna give a fancy card!
Girl you know you're like my car!
Not gonna take you to an awesome beach,
Girl you know my money's steep!
Wanna get you something that's epic,
Something epic princess,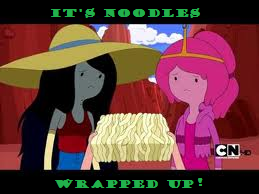 Ohhhhhhhh!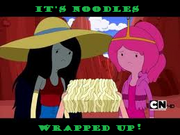 See I'm smart enough to know, when a food needs givin!
And I just got the food! Somethin to show ya! Your appetite's crazy!
With all those people out there, who's starving up their tounge!
You can fix that! just follow these steps.
1. Get somethin square
2. Put yo noodles in that square!
3: You got wrapped up stuff, and that's the way you do it!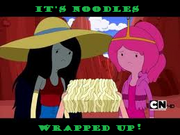 It's noodles wrapped up, yeeesss!!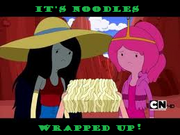 Yeaahhh!!!
ON your birthday...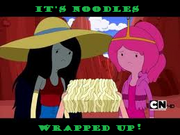 At a party...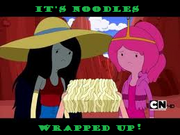 Adventure time marathon...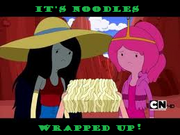 Every single weekday...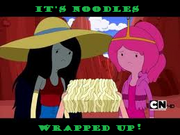 At the Candy Kingdom,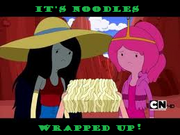 Fighting the Ice King,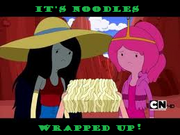 During every dinner,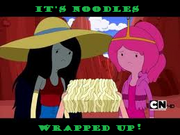 Oh I'm starvin! So,