''Welcome to the Fire Kingdom!Edit
Hi, I'm Blushing Flame Princess!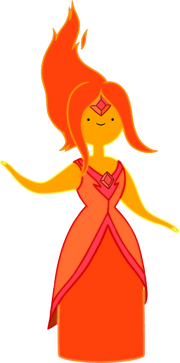 And may I say, welcome to my talk kingdom!
If you would like to leave a comment, please make sure to remember your signature. Thank you!
Hey Guys, sorry I haven't really been on here all that often, I've been doing a lot of stuff lately... but I'm BACK!!!!
And I've gotten much better at drawing AT scenes and characters, so I am continuing my art blog now! Leave requests gallore!
Fan Fiction UpdatesEdit
Below, you will find updates on the fan fiction series written by Blushing Flame Princess!
Hey Everyone! Here is a sneak peak for episode 2 of my fan fiction... "What happened, Finn? Is she...gone?" Jake asked. Finn sighed. "Yah." "Oh, man, I'm sorry. Why don't we throw a funeral for her?" "What the lump, man! She's not dead!" Hope you can see episode 2!

Blushing Flame Princess

16:04, July 31, 2012 (UTC) 14:01, July 31, 2012 (UTC)
Hey Flambits! Episode 2 is finally out! Please leave comments and/or ideas for the episodes on the blog post or here. Thanks!
Hello, followers! Episode 3 has been released! check it out on my blog!

Blushing Flame Princess

16:04, July 31, 2012 (UTC)14:01, July 31, 2012 (UTC)
Episode 4 is out! Click here to read it!-
http://adventuretime.wikia.com/wiki/User_blog:Blushing_Flame_Princess/Adventure_Time_Fan-Fiction_Episode_4
Hope you can see episode 4!

Blushing Flame Princess

13:04, August 2, 2012 (UTC)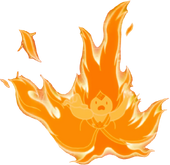 Comments from Users
Sure! thanks!

Oda was here

23:30, April 8, 2012 (UTC) 21:41, August 6, 2012 (UTC)
Hello! I really liked the designs of your OCs and I was wondering if I could sketch them to put on my page. I'd give you full credit, of course. They have wonderful designs and I think they would be a fun thing to draw (they might look a bit different because of my interpretation of them, but they'd be pretty much the same.) I'm a decent artist when it comes to adventure time (I have some drawings on my page you could look at) and I think your OCs are pretty creative! I'll be sure to stress that they are yours as much as I can. Thank you! :) A Nerdy Princess (talk) 19:25, August 8, 2012 (UTC) A Nerdy Princess
Sure, go ahead! And thanks for including credit. :)

Blushing Flame Princess

12:00, August 10, 2012 (UTC)
I'm in the middle of outlining them now- do you want me to color them in? A Nerdy Princess (talk) 22:06, August 18, 2012 (UTC)
Sure! Sounds good! Thanks for appreciating my art. :)

Blushing Flame Princess

11:46, August 19, 2012 (UTC)
Why did you remove all my messages? I don't think you are allowed to do that. May StarClan light your path,

RandomKitten

03:04, August 12, 2012 (UTC)
Art trade :)
Edit
my character is posted on my profile, her name is Korin, I'm assuming you want a picture of flame princess blushing
KT1999 (talk) 23:00, August 19, 2012 (UTC)
Actually, here is a pic of me, or if you want to draw an OC of mine u can.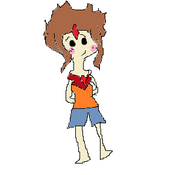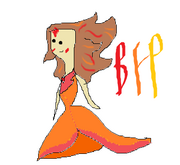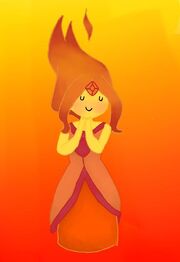 Heres my half of the art trade, you dont need to rush with mine, I cant wait to see what you draw :)
its the bottom one
KT1999 (talk) 04:48, August 21, 2012 (UTC)
the program I use
Edit
I just wanted to give you some tips also, so, first of all, I use mypaint, it's really straight forward, nothing special, you can surely find it if you google it and its free. How I make my drawings is that I draw them traditionally, so I draw them on paper, and I take a picture with my i touch but you can scan it if you want as long as a you have a photo of it.
when I open mypaint I go to open I think its under file, and I got find it where I saved it, the first thing you have to do is first of all rotate (under view) it cause it will be on it's side, and make a layer on top to start finelining. Layers are kinda complicated, you can find a video on youtube, you might have to watch a few to uderstand the whole thing. seeing all the drawings you've made, I'm geussing you use paint. so from all the drawings that you have done you've probably got a good control with your mouse. but anyway after it is complety finelined, you have to erase, or throw away the Old layer with the drawing becuase most of the time when you take a photo, the paper is never pure white.
so the tools I use, uh, for finelining, which you have to do in order to color it, I use delayed ink, it's under something called Ramon. And always use hard eraser, its in the same section. and for coloring use "fill" it has a picture of a marker in Deeved. to make the nice blending I use Blur in classic. I use all these tools in my favorites which you can just drag into.
I'm really sorry this is a really long message -u-" but you have the potenial to be a great artist, computer art is always hard, but I started out making drawings like yours, tbh yours are better then mine used to be. I can make you a video tutorial if you found this hard to understand. and the drawing you gave to me was awesome, I honestly never really had people draw just for me, so I really appreciate it c: I hope I get to see more of your drawings soon
KT1999 (talk) 01:59, August 22, 2012 (UTC)
Drawings
Edit
I think your pretty good but if your doing Adventure Time style, the eyes need to be a little ovalish and smaller and farther apart. I should consider that you practice by trying to copy pictures of the characters themselves and develope your own style in your characters. P.S. I thnk you should consider sticking with pencils and sketchpads. Anonymous 7:35, August 31, 2012 (UTC)
Hi! I just wanted to say the new picture you made of FP "ablaze" was by far the best you've done. Keep up the good work! (BTW I'm almost done with your OCs) A Nerdy Princess (talk) 22:27, August 21, 2012 (UTC)
Thanks! -BFP
Thanks for the signature! It would've been way to confusing for me to do on my own. Thanks again!:)

Princess of the Candies

15:23, August 26, 2012 (UTC)
That job you offered
Edit
Hi! I think illistrating your fanfic will be super fun! Is there a date you want me to finish them by
As soon as you can, because the first chapter is almost done. And thanks for accepting!

Blushing Flame Princess

20:54, August 28, 2012 (UTC)

Alright! I forgot to log in before, but that was me before, don't worry :). I am on vacation so i won't be able to draw them for a while, but i'll start them right away when I get back. Is that ok? A Nerdy Princess (talk) 22:03, August 28, 2012 (UTC)
Sure, that's ok. Thanks for accepting!

Blushing Flame Princess

14:20, August 29, 2012 (UTC)
Wow! Your art is soooo awesome! I love your OC's too. Your FionnaXGumball art is cute and I like it, but ,unfortunatly, I don't ship it (Fiolee). Check out my art too .w. ! Keep up the good work! FionnaTheHumanFIOLEE (talk) 23:46, September 7, 2012 (UTC)
Ember Princess (talk) 00:38, September 9, 2012 (UTC) In your art blog it says you need any help? I would be happy to help you with the requests! If its ok with you :)
You voted in the archives, I deleted your vote, please go vote in the regular place. ƒelinoel ~ (Talk) 01:48, November 1, 2012 (UTC)
echoing* FIRE SAAAALE!!!!!!!!! 




FFFIRE SAAALE!!!!!!!!!!!!!!!!!!!!!

Added by

ChilledEnderman

Chilled Enderman

04:41, March 29, 2013 (UTC)