Hi Flame Princess, welcome to the Adventure Time Wiki! You're receiving this automated message because you made your first contribution to this wiki. Someone will probably see your edit to the File:Gunther.gif page shortly.
Please take a look at our rules and manual of style to learn about how to correctly create and edit pages on our wiki.
Leave a message on my talk page if I can help with anything! -- A hero boy named Finn (Talk) 17:14, July 2, 2012
Urgent Message!!!
Edit
You know how I was going to send a scout, right? Well, another option for a scout suddenly announced he would come to the kingdom and wreck havoc. You do NOT want to mess with him unless your kingdom manages to survive his weapons. He was once somewhat like this, but much less evil. I know who's possessing him, but I don't know why this possesser is acting so evil... I was also going to come, by the way, but I stopped at the Candy Kingdom for a quick snack. Why? Cuz I LOOOOVE candy =3
Notcreepypasta 02:58, July 18, 2012 (UTC)
Notcreepypasta 03:02, July 18, 2012 (UTC)
P.S. The possible scout is a Marshtomp, and the possessor is Darkrai. I have no idea why Pokemon would have anything against you...
Edit: Marshtomp is too far away to go to the Fire Kingdom. Consider yourself lucky.—Preceding unsigned comment added by Notcreepypasta (talk • contribs)
Please remember to sign your posts with four tildes (~~~~).
FPxFinn fan is surprised and a new user.
Edit
Dude(girl),i did not see you had the same avatar by the way i am not a new user.I meant a new account. :P
FPxFinn fan (talk) 11:44, July 30, 2012 (UTC)FPxFinn fan
Hey,This is mind princess.Well,of course you don't know this but.Im your sister im just called like that :3.Pls,i hope you understand it.And,if you wanted to check my page,Plz sis.click this:Flare Princess 14:09, September 20, 2012 (UTC)Flare Princess.My "aka"Name is Flare Princess.I hope you understand it.:3
Hey,This is your sister,Flare Princess or Mind Princess.Well,I know that this is my 2nd message and,hehe srry about that.Hey sister,If you want to chat with me,Plz chat on the nightospear.(Flare Princess 14:51, September 20, 2012 (UTC))Mind Princess.Also,Pls don't be mad at me,Im Good/Bad like you.:3 Flare Princess 14:51, September 20, 2012 (UTC)Mind Princess .If you want to search my type: Mind Princess in everything.Or:
http://adventuretime.wikia.com/wiki/User:Mind_Princess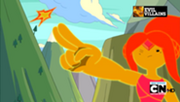 [Unnamed Section]
Edit



Dark Twilight (talk) 14:10, December 19, 2012 (UTC)